Rear headphone connectors andcontrols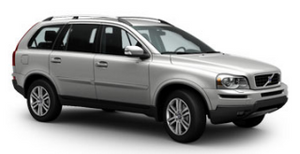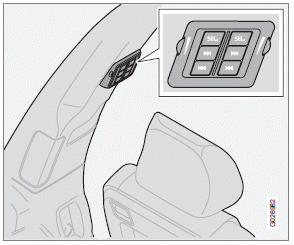 The door panels behind the second row of seats can be equipped with headphone connectors for passengers in the second and third row of seats. Several people can listen to different sound sources, such as CDs or the radio at the same time without disturbing each other.
Two sets of headphones can be plugged into each connector.
1. With the audio system switched on, use the SEL button to select a sound source.
2. Press the arrow keys briefly to change CD tracks or switch between preset stations.
3. Hold down the arrow keys to fast forward/ reverse, or search for the previous/next strong radio station.
4. Hold down the SEL button to turn off the sound.
NOTE
For the best sound reproduction, we recommend headphones with impedance between 16 Ц 32 ohm. The sensitivity of these should be equal to or greater than 102 dB. The headphone connections are intended for 3.5 mm contacts and are located under the lower edge of the socket.
All headphones are automatically turned off when the ignition is switched off. They must be manually restarted when the ignition is switched on again.
Headphones Ц limitations
Х The headphones will only work when the ignition key is in position I or higher.
Х If a set of headphones is connected to the same source that is being sent through the speakers, the headphone controls cannot be used to change track or station. This is to prevent the driver from being distracted by an unexpected change in music.
Х If the driver selects the same sound source as someone listening to this source through headphones, the driver takes control of the sound source.
Х Only one disc in the optional CD changer, and one track on the CD can be played at a time.
Х Headphone users can choose from among the preset radio stations (AM, FM1, FM2) previously set by the driver.
Х If FM is played in the speakers, AM is not available and vice versa.
See also:
Main USB menu
USB menu Play/Pause Stop Random Repeat folder Select USB device Change subtitles Change audio track Scan Audio settings ...
Locking and unlocking
Locking and unlocking the vehicle from the inside The switch on the driver's door armrest can be used to lock or unlock all doors and the tailgate, and to set the alarm. Each door can also be ...
Lever positions
Turn signals, lane change position Turn signals, position for normal turns High beam flash Toggle between high and low beams, Home Safe lighting ...