Power steering fluid reservoir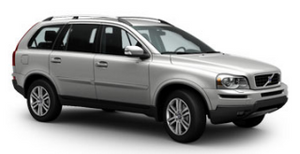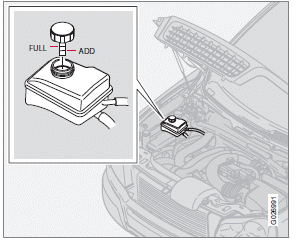 The fluid level should always be between the ADD and FULL marks.
Fluid type: Volvo synthetic power steering fluid (Pentosin CHF 11S) P/N 1161529 or equivalent.
Replace: No fluid change required.
If a problem should occur in the power steering system or if the vehicle has no electrical current and must be towed, it is still possible to steer the vehicle. However, keep in mind that greater effort will be required to turn the steering wheel.
See also:
Uniform Tire Quality Grading
Quality grading information ALL PASSENGER VEHICLE TIRES MUST CONFORM TO FEDERAL SAFETY REQUIREMENTS IN ADDITION TO THESE GRADES Quality grades can be found, where applicable, on the tire sid ...
Tire rotation
Your vehicle has no required tire rotation. Tire wear is affected by a number of factors such as tire inflation, ambient temperature, driving style, etc. NOTE If the tires are rotated, the ...
Headlight housing
The entire headlight housing must be lifted out when replacing all front bulbs. CAUTION Never touch the glass of bulbs with your fingers. Grease and oils from your fingers vaporize in the he ...