Before a long distance trip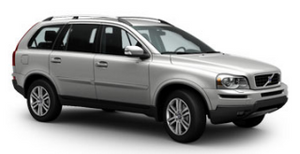 It is always worthwhile to have your vehicle checked by a trained and qualified Volvo service technician before driving long distances.
Your retailer or service technician will also be able to supply you with bulbs, fuses, spark plugs and wiper blades for your use in the event that problems occur.
As a minimum, the following items should be checked before any long trip:
Х Check that engine runs smoothly and that fuel consumption is normal.
Х Check for fuel, oil, and fluid leakage.
Х Check transmission oil level1.
Х Check condition of drive belts.
Х Check state of the battery's charge.
Х Examine tires carefully (the spare tire as well), and replace those that are worn.
Check tire pressures.
Х The brakes, front wheel alignment, and steering gear should be checked by a trained and qualified Volvo service technician only.
Х Check all lights, including high beams.
Х Reflective warning triangles are legally required in some states/provinces.
Х Have a word with your Volvo retailer if you intend to drive in countries where it may be difficult to obtain the correct fuel.
Х Consider your destination. If you will be driving through an area where snow or ice are likely to occur, consider snow tires.
See also:
The Federal Clean Air Act Ц U.S.
The Federal Clean Air Act requires vehicle manufacturers to furnish written instructions to the ultimate purchaser to assure the proper servicing and function of the components that control emissi ...
Water on brake discs and brake padsaffects braking
Driving in rain and slush or passing through an automatic car wash can cause water to collect on the brake discs and pads. This will cause a delay in braking effect when the pedal is depressed. To ...
Navigating and playing tracks
Turn TUNE to access the device's playlist and to navigate in this list. Press OK/MENU to either select a sub-folder or confirm a choice and begin playback. Press EXIT to cancel and exit the pl ...