New dynamic chassis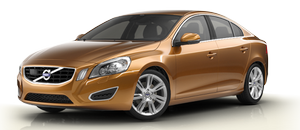 The new Volvo S60 is the most sporting Volvo ever built and during the development process, the chassis team refined every single detail to fine tune the driving experience. The result of their labours is a newly-developed Dynamic chassis, standard on every new Volvo S60.
The steering gear ratio is 10 per cent faster than in previous models to give enhanced steering feel and sharper response. The steering column's thicker tubing and stiffer bushes have increased torsional rigidity by 100 per cent. This also contributes to the increased feeling of direct contact with the wheels and the road.
The front spring struts have thicker pistons compared with the sports chassis in the Volvo S80. The resultant 47 per cent increase of stiffness means that the body structure is better able to absorb lateral loads. The springs themselves are shorter and stiffer than before and the Eigen frequency has increased by 10 per cent. At the front, spring strut mounting stiffness has increased by 50 per cent. The front and rear subframe bushes are up to twice as stiff compared with previous models. The link arm bushings have also been optimised for sporty driving and full control.
The damper mountings at the rear are made of PUR (polyurethane) instead of rubber to provide better balance between comfort and dynamic control.
Stefan Sällqvist, responsible for the Volvo S60 chassis development explained: "We spent many weeks fine-tuning the dampers out in the English countryside. We drove on old Roman roads that have only ever received a few layers of tarmac over the centuries - a perfect environment for finding the right damping qualities."
See also:
Fastening a seat belt
Buckling Pull the belt out far enough to insert the latch plate into the receptacle until a distinct click is heard. The seat belt retractor is normally "unlocked" and you can move free ...
Functions
NOTE If a warning message appears while you are using the trip computer, this message must be acknowledged in order to return to the trip computer function. Acknowledge a message by pressing ...
Repairing stone chips
1. Place a strip of masking tape over the damaged surface. Pull the tape off so that any loose flakes of paint adhere to it. 2. Thoroughly mix the primer and apply it with a small brush. 3. ...