Child safety locks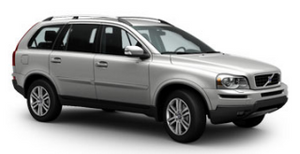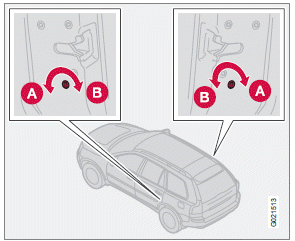 Child safety locks in the rear doors
Manual child safety locks – rear doors/ tailgate
The controls are located on the rear door jambs and at the lower edge of the tailgate. Use a key or small screwdriver to adjust these controls.
A The door/tailgate cannot be opened from the inside. The door/tailgate can be opened from the outside.
B The door/tailgate locks function normally.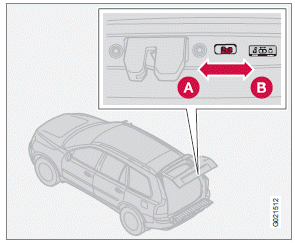 Child safety lock in the tailgate
WARNING
Remember, in the event of an accident, the rear seat passengers cannot open the doors from the inside with the buttons in position A.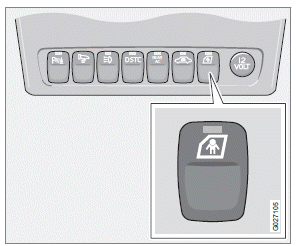 Power child locks
To prevent the rear doors from being opened from the inside:
1. Turn the vehicle's ignition key to at least position 1.
2. Press the button shown above.
Indicator light in the button ON: the doors cannot be opened from the inside. Normal operation from the outside.
Indicator light in the button OFF: the doors can be opened from the inside.
See also:
Gauges
Gauges in the instrument panel 1 Speedometer. 2 Fuel gauge. Please note that the fuel level indicator in the gauge moves from right to left as the amount of fuel in the tank decreases. The a ...
The Inside
Like the exterior, the C30's cabin is highlighted by a design element, specifically a flowing center control panel. It's similar to the one in the S40 and V50, and the thin panel is partially sepa ...
Safety
Volvos are renowned for their safety. This commitment is as old as the company itself. As Assar Gabrielsson, one of the founders of Volvo, declared: 'Cars are driven by people. The guiding principle ...