12-volt sockets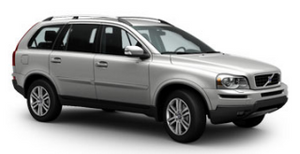 These 12 volt sockets can be used to plug in certain accessories such as cellular telephones, etc.
The ignition key must be in at least position I for the sockets in the front seat and the optional socket at the rear of the center console to function.
The maximum current consumption is 10A (120W) if only one of the 12-volt sockets in the passenger compartment is in use. If both the front and rear sockets are used at the same time, the maximum current consumption per socket is 7.5A (90W).
12-volt socket in the cargo compartment
NOTE
Х If the 12-volt sockets are used while the engine is not running, there is a risk that the vehicle's battery will be discharged.
Х If the ignition is switched off and a device drawing more than 0.1 A is connected to a socket, a battery warning
will be displayed in the text window.
Х The covers should be kept on when the auxiliary sockets are not in use.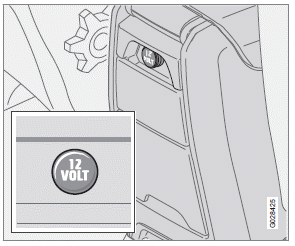 12-volt socket at the rear of the center console
Ashtrays/cigarette lighter
The auxiliary socket can also be used to power a cigarette lighter. Accessory cigarette lighters and ashtrays can be purchased from your Volvo retailer.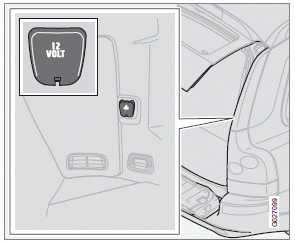 12-volt socket in the cargo compartment
See also:
Seat belt maintenance
Check periodically that the seat belts are in good condition. Use water and a mild detergent for cleaning. Check seat belt mechanism function as follows: attach the seat belt and pull rapidly on t ...
Bluetooth version information
This feature offers information about the Bluetooth version installed in the vehicle's infotainment system. This information can be found under Bluetooth menu - Bluetooth software version in c ...
Decals
There are various types of decals in the vehicle whose purpose is to provide important information in a clear and concise way. The importance of these decals is explained as follows, in descending ...