CHECK ENGINE Malfunction indicatorlight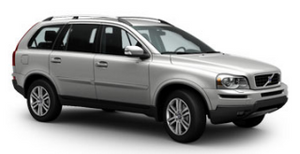 On-Board Diagnostics II (OBDII): As you drive, a computer called "OBDII" monitors your vehicle's engine, transmission, electrical and emission systems. The CHECK ENGINE light will light up if the computer senses a condition that potentially may need correcting. When this happens, please have your vehicle checked by a trained and qualified Volvo service technician as soon as possible.
A CHECK ENGINE light may have many causes.
Sometimes, you may not notice a change in your vehicle's behavior. Even so, an uncorrected condition could hurt fuel economy, emission cleanliness, and driveability.
Extended driving without correcting the cause could even damage other components in your vehicle.

Canadian models are equipped with this warning light.
See also:
Paths
The current menu level is displayed at the upper right of the center console display. Menu paths are displayed as follows, for example: The following is an example of how to set a function in the ...
Making a call
1. Ensure that is shown at the top of the center console display and that the handsfree function is in telephone mode. 2. Dial the desired phone number using the center console keypad or use the s ...
Scan
The function automatically searches the current waveband for radio stations. When a station is found, it is played for several seconds before scanning is resumed. While the station is playing ...