Driving Dynamics: Chassis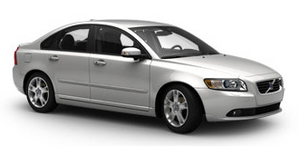 The Volvo S40 combines an engaging, dynamic driving experience with a high level of active safety, thanks to its sophisticated suspension system, high level of torsional rigidity, wide track and the latest electronic stability systems.
"A modern Volvo should obey the driver's slightest command - immediately and without fuss," says Peter Ewerstrand, the Volvo S40 project manager. "It should be as enjoyable to drive as it is safe. We had particularly high ambitions for the Volvo S40 and we're more than pleased with the result. This is a car you'll truly look forward to driving whenever you get the chance."
The body of the current Volvo S40 is 68 per cent stiffer than that of the original thanks to advanced body design and the use of high-strength materials, including Ultra High Strength Boron Steel. This high level of torsional rigidity allows the suspension to do its job properly and its provision was integral to the Volvo S40's design. It benefits not only the ride and handling characteristics, but also its crashworthiness.
A further contribution to the Volvo S40's exceptional stability is provided by the wide track (1535mm front, 1531mm rear) and long wheelbase (2640mm). The former helps improve the car's balance, enabling it to cope with high cornering forces, while providing clear and consistent feedback to the driver. The long wheelbase, meanwhile, contributes to a balanced weight distribution with a low minimal moment of inertia. In practical terms, this enhances the steering response and helps ensure that the Volvo S40 responds in a controlled, predictable manner in all circumstances, making a major contribution to active safety.
See also:
Cleaning the upholstery
Fabric Clean with soapy water or a detergent. For more difficult spots caused by oil, ice cream, shoe polish, grease, etc., use a clothing/fabric stain remover. Consult your Volvo retailer. Inter ...
IR-reflecting windshield
Section of the windshield where the IR-coating is not applied An optional factory-installed infrared (IR) coating can be applied to the windshield to help protect the cabin from the sun's hea ...
Interior design
'At only 4.26 metres long, the C30 is not a big car, but its spacious cabin gives it a real big car feel,' says Mr Abrahamsson, Volvo C30 project director. Volvo's iconic 'floating' centre console ...