Driving Dynamics: Engines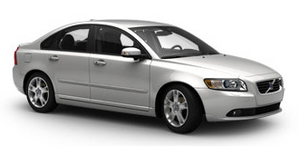 The Volvo S40 is available with a range of high-tech engines that reflect its role as a premium alternative. Three new engines joined the range in 2007: a 145 PS 2.0-litre petrol, a five-cylinder 180 PS D5 turbodiesel and a 125 PS 1.8 Flexifuel engine. Lining up next to these is a five-cylinder petrol engine - the T5 - providing an unrivalled combination of power and refinement. Then there are 1.6-litre petrol and diesel engines, a 1.8-litre four-cylinder petrol engine, plus a 2.0-litre 136 PS turbodiesel that boasts second-generation common-rail technology for maximum refinement and economy with low emissions. All diesel engines are Euro IV compliant.
2.0 and D5
The 145PS, four-cylinder, 2.0-litre petrol engine with manual transmission and the 2.4-litre, 180PS, five-cylinder D5 turbodiesel joined the Volvo S40 range in 2007.
The 2.0-litre petrol delivers smooth performance (0-60 mph in 8.9 seconds) together with respectable fuel economy (a combined figure of 38.2mpg) and CO2 emissions of 176g/km.
The D5 is already familiar from its use in the Volvo S60, S80 and the rest of the Volvo range (the slight decrease in power here is a result of the restricted cooling capacity allowed by the smaller frontal area of the Volvo S40). Available in SE, SE Lux, R-DESIGN Sport and R-DESIGN SE Sport versions, it comes with a six-speed manual gearbox and delivers stunning all-round performance with 180 PS, 350 Nm of torque, 0-60mph possible in 7.5 seconds, emissions of 164 g/km and a maximum of 57.6mpg on the extra-urban cycle. Geartronic transmission is also available as an option.
T5
The five-cylinder petrol powerplant is based on the low-friction units found in larger Volvo saloons, but were extensively revised and repackaged for installation in the Volvo S40. The latest generation is called RNC, with the 'C' indicating 'Compact'.
The T5 has manual transmission as standard, however, Geartronic is available as an option. The engine boasts four valves per cylinder and dual overhead camshafts, together with CVVT (Continuously Variable Valve Timing) to maximise torque at low engine speeds and to reduce exhaust emissions.
The performance flagship of the Volvo S40 range is the 2521cc T5. it generates a potent 230 PS at 5000 rpm. The peak torque output of 320 Nm is available all the way from 1500-5000 rpm, proving that top-end thrust need not be achieved at the expense of mid-range flexibility. The manual T5 can advance from 0-60 mph in just 6.3 seconds and will reach 149 mph. But despite its high performance, it still achieves an excellent 32.5 mpg on the combined cycle.
1.6 and 1.8
The choice of petrol engines for the S40 includes four-cylinder 1.6-litre and 1.8-litre petrol units. Both offer good performance and economy - and value for money. The 1.6 provides 100PS and 150Nm of torque, 0-60mph in 11.3 seconds, emissions of 169 g/km and 39.8mpg on the combined cycle.
The larger 1.8-litre offers 125 PS and 165 Nm of torque, 0-60mph in 10.3 seconds, emissions of 174 g/km and also achieves 38.7 mpg on the combined cycle.
1.6D and 2.0D
Lining up next to the new flagship diesel engine, the D5, are the 1.6 and 2.0-litre turbodiesel engines, which offer both performance and economy. Developed in conjunction with Ford Motor Company and PSA Peugeot Citroën, they feature second-generation common-rail technology, delivering an unbeatable combination of power, refinement and frugality. The smaller 1.6-litre turbodiesel also offers strong and flexible performance, with 109 PS and plenty of flexibility provided by 240 Nm of torque from 1750 rpm. It offers the best fuel consumption of the range, with 67.3 mpg recorded on the extra-urban cycle, 57.6 mpg on the combined and 45.6mpg on the urban. The six-speed manual 2.0D has a maximum power output of 136PS and peak torque of 320Nm at just 2000 rpm; it covers the 0-60 mph increment in 8.9 seconds and can go on to reach 127mph.
But while the 2.0D's acceleration is petrol-like, its economy underlines the value of diesel power. The Euro IV compliant 2.0D returns an excellent average of 48.7mpg on the combined cycle and a maximum of 58.9mpg on the extra-urban, and its carbon dioxide emissions are 153 g/km. This is not only great news for the environment, but also provides company car drivers with useful tax savings. A Volvo Powershift transmission was introduced as an option in 2.0D in early 2008, this six-speed unit features twin wet clutches to provide the gear changing comfort of a fully-automatic transmission with the performance of a manual gearbox.
1.8 Flexifuel
The third engine to join the range in 2007 is the 1.8 Flexifuel. Reinforcing Volvo's long-standing commitment to environmental care this engine runs on renewable E85 bioethanol fuel an environmentally friendly alternative to traditional fuels, emitting up to 80% less fossil carbon dioxide emissions than petrol. Choosing a Volvo S40 Flexifuel can help reduce fossil carbon dioxide emissions without having to compromise on either performance or comfort. Based on the 1.8 litre, four cylinder normally aspirated petrol engine producing 125 PS, the 1.8F runs on E85, a fuel that consists of 85% bioethanol and 15% regular petrol. Should E85 not be available, the vehicles can also use unleaded petrol - both fuels can go into the same tank in any mixture offering total flexibility. The car's engine management system monitors the blend and automatically modifies the injection and ignition timings to optimise performance.
See also:
TEL menus
Main Bluetooth hands-free menu Phone menu Call lists All calls Missed calls Answered calls Dialed calls Call duration Phone book Search New contact Speed dials Receive vC ...
Limitations
Even if a fairly small section of the screen image appears to be obstructed, this may mean that a relatively large area behind the vehicle is hidden and objects there may not be detected until ...
Introduction
The load carrying capacity of your vehicle is determined by factors such as the number of passengers, the amount of cargo, the weight of any accessories that may be installed, etc. To increase ...