Environment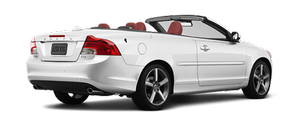 Volvo cares passionately about environmental protection, whether it's in reducing pollutants from its vehicles, or cutting pollutants entering the car. The well-being of people is at the core of every decision taken. Volvo's environmental dedication dates back to the 1970s and encompasses the car's entire lifecycle, from design, construction and production to use, servicing and recycling. The main focus is on efficient energy and resource utilisation, reduced emissions and non-allergenic car interiors.
The turbodiesel D5 engine has a combined fuel economy of 42.8 mpg (6.6 l/100 km). Even the top-range high-performance model, the T5, gives excellent economy considering its performance potential - 31.7 mpg (8.9 l/100 km) in manual form on the combined cycle. Naturally, all four engines meet latest emission regulations. The two petrol engines eliminate between 95-99 percent of harmful pollutants, while the diesel's particulate filter stops 95 percent of all soot particles from being emitted. The emission control system is designed to work as efficiently as possibly as soon as possible after start-up - when emissions are at their highest. Even the fuel cap has been carefully designed to prevent emissions: it is designed to allow minimum fuel evaporation both when driving and stationary.
When the roof is up, a cabin filter prevents dust and pollen entering the car through the ventilation system. The AQS (Air Quality System) further filters out unhealthy or unpleasant traffic pollutants and can close the ventilation intakes completely.
Upholsteries and all other interior components comply with the Oeko-Tex Standard 100 to reduce allergens. This includes the metal trim, which comply with the same standards for metal leakage as superior jewellery.
See also:
Using the information button
1. Press the information button . 2. All of the indicator lights will flash sequentially for approximately 7 seconds to indicate that the PCC is receiving information from the vehicle. If any o ...
Re-installing the wheel
1. Clean the contact surfaces on the wheel and hub. 2. Lift the wheel and place it on the hub. Tighten the lug nuts 3. Install the wheel nuts and tighten handtight. Using the lug wrench, tighten ...
Emergency stop
If the seat accidentally begins to move, press one of the buttons to stop the seat. WARNING • Because the driver's seat can be adjusted with the ignition off, children should never be left una ...