Polishing and waxing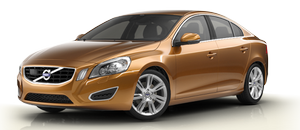 Normally, polishing is not required during the first year after delivery, however, waxing may be beneficial.
Before applying polish or wax the vehicle must be washed and dried. Tar spots can be removed with kerosene or tar remover. Difficult spots may require a fine rubbing compound.
After polishing use liquid or paste wax.
Several commercially available products contain both polish and wax.
Waxing alone does not substitute for polishing a dull surface.
A wide range of polymer-based waxes can be purchased today. These waxes are easy to use and produce a long-lasting, highgloss finish that protects the bodywork against oxidation, road dirt and fading.
Do not polish or wax your vehicle in direct sunlight (the surface of the vehicle should not be warmer than 113 °F (45 °C).
CAUTION
Volvo does not recommend the use of longlife or durable paint protection coatings, some of which may claim to prevent pitting, fading, oxidation, etc. These coatings have not been tested by Volvo for compatibility with your vehicle's clear coat. Some of them may cause the clear coat to soften, crack, or cloud. Damage caused by application of paint protection coatings may not be covered under your vehicle's paint warranty.
See also:
Audible signal
The Park Assist system uses an intermittent tone that pulses faster as you come close to an object, and becomes constant when you are within approximately 1 ft (30 cm) of an object in front of or ...
Selecting a channel
There are three ways of tuning in a channel: • Using the left and right arrow keys to go to the next channel. Skipped channels (see page 221) will be excluded. • By turning the TUNE control and ...
Lower cross member
The front structure has been supplemented by a lower cross member that adapts the front to the height of a normal-sized passenger car. This enables the other car's deformation zones to function as ...