Navigating and playing tracks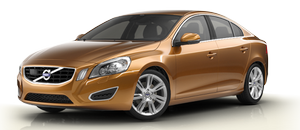 Turn TUNE to access the device's playlist and to navigate in this list. Press OK/MENU to either select a sub-folder or confirm a choice and begin playback. Press EXIT to cancel and exit the playlist or to go back in the folder structure. Press and hold EXIT to go to the highest level in the playlist.
The

buttons on the center console or steering wheel keypad can also be used to change tracks/files.
The following symbols are used in the display:
- audio files
- video files
- folders
When a file has been played, the player will continue to play the rest of the files (of the same type) in the current folder. When all of the files in the folder have been played, the player will automatically go to the next folder1 (unless Repeat folder is activated) and play the files in it.
The system automatically detects and changes settings if a device containing only audio or only video files is connected to the USB socket and will play these files. However, the system will not change settings if the device contains both audio and video files and will continue to play the current type of file.
See also:
Disposing of old batteries
Worn out batteries should be disposed of in an environmentally responsible manner. ...
Tunnel console
1 - Storage compartment (for CDs, etc.) under armrest, AUX input/USB connector. 2 - Includes cup holder for driver and passenger, 12-volt socket and small storage compartment. ...
Detachable key blade
Each remote key or PCC contains a detachable metal key blade for mechanically locking or unlocking the driver's door and the glove compartment. See page 61 for more information on the key blade ...