Navigating and playing tracks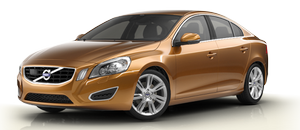 Turn TUNE to access the device's playlist and to navigate in this list. Press OK/MENU to either select a sub-folder or confirm a choice and begin playback. Press EXIT to cancel and exit the playlist or to go back in the folder structure. Press and hold EXIT to go to the highest level in the playlist.
The

buttons on the center console or steering wheel keypad can also be used to change tracks/files.
The following symbols are used in the display:
- audio files
- video files
- folders
When a file has been played, the player will continue to play the rest of the files (of the same type) in the current folder. When all of the files in the folder have been played, the player will automatically go to the next folder1 (unless Repeat folder is activated) and play the files in it.
The system automatically detects and changes settings if a device containing only audio or only video files is connected to the USB socket and will play these files. However, the system will not change settings if the device contains both audio and video files and will continue to play the current type of file.
See also:
Water on brake discs and brake pads affects braking
Driving in rain and slush or passing through an automatic car wash can cause water to collect on the brake discs and pads. This will cause a delay in braking effect when the pedal is depressed ...
Sound stage
The sound experience can be optimized for the driver's seat, both front seats or the rear seat. If the front and rear seats are occupied, the sound stage setting Front seats is recommended. Sele ...
Warning light—driver braking required
Adaptive Cruise Control can exert brake force that is equivalent to approximately 40% of the vehicle's total braking capacity. In situations requiring more brake force than ACC can provide and ...