Introduction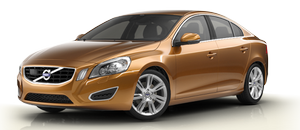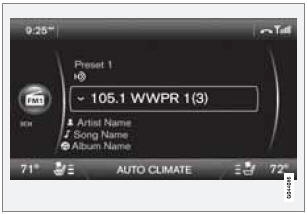 Display when the radio is receiving an HD Radio broadcast

NOTE
HD radio volume may fade in and out at times due to coverage limitations.
HD radio is a brand name registered by the Ibiquity digital corporation1. They are the developer of a broadcasting technology called IBOC or In Band On Channel, which refers to the method of transmitting a digital radio broadcast signal centered on the same frequency as the AM or FM station's present frequency.
The IBOC system is referred to as a "hybrid" since it is both analogue and digital. During hybrid operation, receivers still continue to receive the analogue (non-digital) signal. HD radio receivers incorporate both modes of reception, where the receiver will automatically switch to the analogue signal if the digital signal cannot be decoded or is lost by the receiver. When you have tuned to an HD Radio station, the

symbol will appear in the audio system display. The symbol is "grayed-out" when HD Radio is in standby mode and white when the radio is actively receiving an HD broadcast.
More information about HD radio and IBOC can be found on Ibiquity's website, www.hdradio.com and www.ibiquity.com.
See also:
Refrigerant
Volvo cares about the environment. The air conditioning system in your car contains a CFC-free refrigerant – R134a. This substance will not deplete the ozone layer. The air conditioning system ...
Visual indicator
The audio system's display gives an overview of the vehicle's position in relation to a detected object. The marked sectors in the display indicate that one or more of the sensors has detected ...
Bluetooth version information
This feature offers information about the Bluetooth version installed in the vehicle's infotainment system. This information can be found under Bluetooth menu Bluetooth software version in ...