Introduction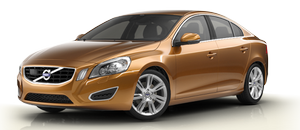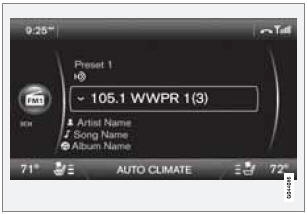 Display when the radio is receiving an HD Radio broadcast

NOTE
HD radio volume may fade in and out at times due to coverage limitations.
HD radio is a brand name registered by the Ibiquity digital corporation1. They are the developer of a broadcasting technology called IBOC or In Band On Channel, which refers to the method of transmitting a digital radio broadcast signal centered on the same frequency as the AM or FM station's present frequency.
The IBOC system is referred to as a "hybrid" since it is both analogue and digital. During hybrid operation, receivers still continue to receive the analogue (non-digital) signal. HD radio receivers incorporate both modes of reception, where the receiver will automatically switch to the analogue signal if the digital signal cannot be decoded or is lost by the receiver. When you have tuned to an HD Radio station, the

symbol will appear in the audio system display. The symbol is "grayed-out" when HD Radio is in standby mode and white when the radio is actively receiving an HD broadcast.
More information about HD radio and IBOC can be found on Ibiquity's website, www.hdradio.com and www.ibiquity.com.
See also:
Opening/closing the fuel cap
Fuel vapor expands in hot weather. Open the filler cap slowly. After refueling, close the fuel filler cap by turning it clockwise until it clicks into place. CAUTION Do not refuel with the e ...
Limitations
• Main channel vs. sub-channels (FM only): The main channel is the only channel that can receive in hybrid mode (both digital and analogue). If a frequency has subchannels, they are broadcast ...
Using voice commands
The driver initiates a voice command dialogue by pressing the voice control button (see the illustration on page 240). When a dialogue has been initiated, commonly used commands will be shown in th ...