Troubleshooting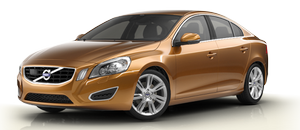 If Windscreen Sensors blocked appears in the information display, this indicates that the City Safety™ laser sensor is obstructed in some way and cannot detect vehicles ahead of you, which means that the system is not functioning.
However, this message will not be displayed in all situations in which the sensor is obstructed. For this reason, the driver must ensure that the area of the windshield in front of the sensor is always kept clean.
The following table shows some of the situations that can cause the message to be displayed and suggested actions.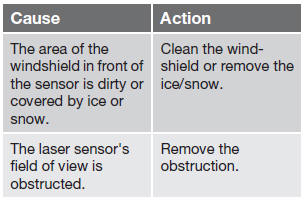 CAUTION
If a crack, scratch or stone chip should occur in the section of the windshield in front the laser sensor and covers an area of approximately 1/50 x 1/10 in. (0.5 x 3 mm) or larger, contact a trained and qualified Volvo service technician to repair or replace the windshield (see the illustration showing the location of the sensor on page 169). Failing to do so may result in reduced City Safety™ functionality.
To help prevent reduced functionality, please also observe the following:
If the windshield is replaced, use the same type or a windshield approved by Volvo.
When replacing windshield wipers, use the same type or ones approved by Volvo.
See also:
Facts about TSA
• TSA intervenes at speeds above approximately 40 mph (60 km/h) • The DSTC symbol () in the instrument panel will flash when TSA is working • If the driver switches off the DSTC system's Spi ...
Dialing a number
The system understands the digits zero to nine. These numbers can be spoken individually, in groups of several digits at a time, or the entire number can be given at once. Numbers above nine will ...
Seating
The C70 is a comfortable car if you're in one of the front seats. They have a bit of side bolstering — so you feel like you're sitting in the seats, not perched on top of them — but the bolstering ...