Troubleshooting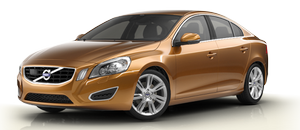 If Windscreen Sensors blocked appears in the information display, this indicates that the City Safety™ laser sensor is obstructed in some way and cannot detect vehicles ahead of you, which means that the system is not functioning.
However, this message will not be displayed in all situations in which the sensor is obstructed. For this reason, the driver must ensure that the area of the windshield in front of the sensor is always kept clean.
The following table shows some of the situations that can cause the message to be displayed and suggested actions.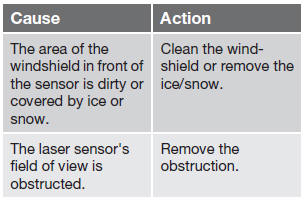 CAUTION
If a crack, scratch or stone chip should occur in the section of the windshield in front the laser sensor and covers an area of approximately 1/50 x 1/10 in. (0.5 x 3 mm) or larger, contact a trained and qualified Volvo service technician to repair or replace the windshield (see the illustration showing the location of the sensor on page 169). Failing to do so may result in reduced City Safety™ functionality.
To help prevent reduced functionality, please also observe the following:
If the windshield is replaced, use the same type or a windshield approved by Volvo.
When replacing windshield wipers, use the same type or ones approved by Volvo.
See also:
Parking brake
Electric parking brake An electric parking brake has the same function as a manual parking brake. NOTE A faint sound from the parking brake's electric motor can be heard when the par ...
Refueling
The fuel tank is designed to accommodate possible expansion of the fuel in hot weather. See page 284 for fuel tank volume. Be aware that the "usable" tank capacity will be somewhat les ...
Standby mode (temporary deactivation)
Press to temporarily deactivate cruise control (put it in standby mode). The set speed, for example 55 mph, is then shown in parentheses. The previously set speed and time interval are resum ...