Operation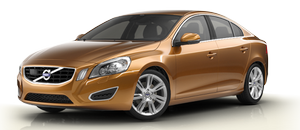 Sport mode
The stability system is always activated and cannot be switched off.
However, the driver can select Sport mode, which offers more active driving characteristics. In this mode, the engine management system monitors movement of the accelerator pedal and steering wheel for sportier driving by allowing more lateral movement of the rear wheels before DSTC is activated.
Under certain circumstances, such as when driving with snow chains, or driving in deep snow or loose sand, it may be advisable to temporarily use Sport mode for maximum tractive force.
If the driver releases pressure on the accelerator pedal, DSTC will also activate to help stabilize the vehicle.
To switch to Sport mode:
1. Press the My Car button in the center console control panel and select My S60 DSTC in the menu.
2. Unselect the symbol and leave the menu by pressing EXIT.
> This puts DSTC in Sport mode.
Sport mode remains active until the driver switches it off in the menu or until the engine is switched off. DSTC will return to normal mode when the engine is restarted.
Symbols and messages in the main instrument panel


WARNING
The stability system is intended to help improve driving safety. It supplements, but can never replace, the driver's judgment and responsibility when operating the vehicle. Speed and driving style should always be adapted to traffic and road conditions.
See also:
Re-installing the wheel
1. Clean the contact surfaces on the wheel and hub. 2. Lift the wheel and place it on the hub. Tighten the lug nuts 3. Install the wheel nuts and tighten handtight. Using the lug wrench, tight ...
Vehicle loading
Loads Properly loading your vehicle will provide maximum return of vehicle design performance. Before loading your vehicle, familiarize yourself with the following terms for determining your v ...
Adjusting the set speed
After a speed has been set, it can be increased or decreased by using the or buttons. 1. Press and hold down or until the vehicle reaches the desired speed. > This will become the set ...