Paths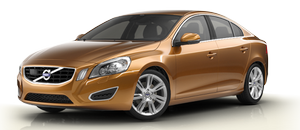 The current menu level is displayed at the upper right of the center console display. Menu paths are displayed as follows, for example:

The following is an example of how to set a function in the menu system:
1. Press the MY CAR button on the center console control panel.
2. Navigate to a menu, for example Settings using the thumb wheel (1) and press it to open a submenu.
3. Navigate to the desired submenu such as Car settings.
4. Navigate to Lock settings and press the thumb wheel to open a new submenu.
5. Navigate to Doors unlock and press the thumb wheel to open a submenu with alternatives that can be selected.
6. Use the thumb wheel to move to the desired choice and press the thumb wheel to put an X in the box.
7. Finish by exiting the menu system either one step at a time with short presses on EXIT (2) or press and hold this button to return to the main menu.
The OK/MENU (2), EXIT (4) and control (3) in the center console can be used in the same way.
See also:
Seating
The C70 is a comfortable car if you're in one of the front seats. They have a bit of side bolstering Ч so you feel like you're sitting in the seats, not perched on top of them Ч but the bolstering ...
How can I prepare for my next OBD II emission inspection?
Х If your Check Engine (MIL) light is lit Ц or was lit but went out without service, have your vehicle diagnosed and, if necessary, serviced by a qualified Volvo technician. Х If you recently h ...
Emergency towing
See page 282 for more information. ...