Paths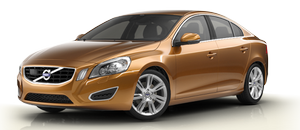 The current menu level is displayed at the upper right of the center console display. Menu paths are displayed as follows, for example:

The following is an example of how to set a function in the menu system:
1. Press the MY CAR button on the center console control panel.
2. Navigate to a menu, for example Settings using the thumb wheel (1) and press it to open a submenu.
3. Navigate to the desired submenu such as Car settings.
4. Navigate to Lock settings and press the thumb wheel to open a new submenu.
5. Navigate to Doors unlock and press the thumb wheel to open a submenu with alternatives that can be selected.
6. Use the thumb wheel to move to the desired choice and press the thumb wheel to put an X in the box.
7. Finish by exiting the menu system either one step at a time with short presses on EXIT (2) or press and hold this button to return to the main menu.
The OK/MENU (2), EXIT (4) and control (3) in the center console can be used in the same way.
See also:
Listening to the radio
You can also listen to the infotainment system's radio through the RSE system. 1. Switch on the cordless headphones, select CH.A for the left screen or CH.B for the right screen. 2. Point the ...
The front airbag system
The front airbags supplement the three-point seat belts. For these airbags to provide the protection intended, seat belts must be worn at all times. The front airbag system includes gas generator ...
Rearview mirror
To reduce glare from the headlights of following vehicles, use the control to switch between the normal and night-driving positions. A Normal position B Night position, reduces glare from follow ...