Other alarm-related functions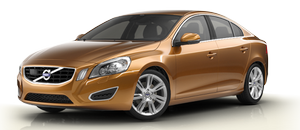 Automatic re-arming
If the doors are unlocked, the locks will automatically reengage (re-lock) and the alarm will re-arm after 2 minutes unless a door or the trunk has been opened.
Audible/visual alarm signal
Х An audible alarm signal is given by a battery powered siren. The alarm cycle lasts for 30 seconds.
Х The visual alarm signal is given by flashing all turn signals for approximately 5 minutes or until the alarm is turned off.
Remote key not functioning
If the remote key is not functioning properly, the alarm can be turned off and the vehicle can be started as follows:
1. Open the driver's door with the key blade (see page 59 for information on detaching the key blade).
> This will trigger the alarm.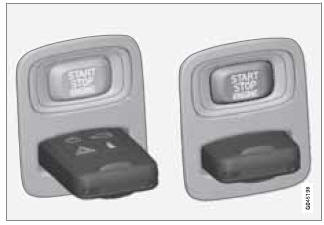 2. Insert the remote key into the ignition slot (also on vehicles with the optional keyless drive). This will turn off the alarm.
3. Start the engine.
See also:
Vehicles equipped with Park Assist
Colored fields (4-one per sensor) indicate distance If the vehicle is equipped with the optional Park Assist system, the distance to an object will be indicated more exactly and colored markers ...
W Ц Winter/Wet driving mode Цenhanced vehicle traction
Press the W button at the base of the gear selector to engage/disengage this driving mode (see illustration). The W symbol will appear in the display (see page 58) when the function is activated ...
Rear center head restraint
Rear center head restraint The center head restraint should be adjusted according to the passenger's height. The restraint should be carefully adjusted to support the occupant's head. Х Pull ...