Locking or unlocking the vehicle with the key blade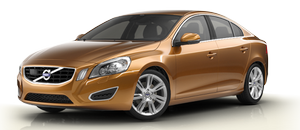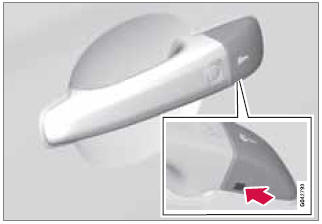 Keyless drive keyhole cover
The driver's door on vehicles equipped with keyless drive can be locked or unlocked with the remote key's detachable key blade if necessary, see page 59 for information on removing the key blade from the remote key. To access the keyhole in the driver's door:
1. Press the key blade approx. 0.5 in. (1 cm) straight up in the hole on the underside of the keyhole cover.
> The cover will come off due to the pressure exerted when the key blade is pushed upward.
2. Insert the key blade as far as possible in the driver's door lock. Turn the key blade to unlock the driver's door only. This will trigger the alarm. Press the remote key into the ignition slot to turn off the alarm.
3. Press the cover back into place after the door has been unlocked.
See also:
Tunnel console
1 - Storage compartment (for CDs, etc.) under armrest, AUX input/USB connector. 2 - Includes cup holder for driver and passenger, 12-volt socket and small storage compartment. ...
Lever positions
Turn signals, lane change position Turn signals, position for normal turns High beam flash Toggle between high and low beams, Home Safe lighting ...
Situations where ACC may not function optimally
WARNING The radar sensor has a limited field of vision. In some situations it may detect a vehicle later than expected or not detect other vehicles at all. If ACC is not functioning prop ...