The front airbag system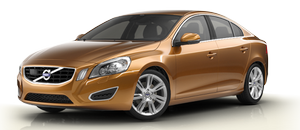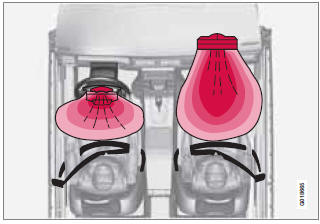 The front airbags supplement the three-point seat belts. For these airbags to provide the protection intended, seat belts must be worn at all times.
The front airbag system includes gas generators surrounded by the airbags, and deceleration sensors that activate the gas generators, causing the airbags to be inflated with nitrogen gas.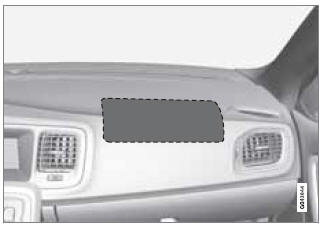 Location of the passenger's side front airbag
As the movement of the seats' occupants compresses the airbags, some of the gas is expelled at a controlled rate to provide better cushioning. Both seat belt pretensioners also deploy, minimizing seat belt slack. The entire process, including inflation and deflation of the airbags, takes approximately one fifth of a second.
The location of the front airbags is indicated by SRS AIRBAG embossed on the steering wheel pad and above the glove compartment, and by decals on both sun visors and on the front and far right side of the dash.
The driver's side front airbag is folded and located in the steering wheel hub. The passenger's side front airbag is folded behind a panel located above the glove compartment.

WARNING
The airbags in the vehicle are designed to be a SUPPLEMENT to–not a replacement for–the three-point seat belts. For maximum protection, wear seat belts at all times. Be aware that no system can prevent all possible injuries that may occur in an accident.
Never drive with your hands on the steering wheel pad/airbag housing.
The front airbags are designed to help prevent serious injury. Deployment occurs very quickly and with considerable force. During normal deployment and depending on variables such as seating position, one may experience abrasions, bruises, swellings, or other injuries as a result from deployment of one or both of the airbags.
When installing any accessory equipment, make sure that the front airbag system is not damaged. Any interference in the system could cause malfunction.
See also:
Storage spaces
Storage spaces 1 Compartment in door panel 2 Storage pocket on the front edge of the front seat cushions 3 Glove compartment 4 Storage compartment, 12-volt socket and AUX input/USB connector 5 ...
Tilt position
Tilt position, raised at the rear edge 1 Open (raise the rear edge of the front glass section) by pressing the rear edge of the control upward. 2 Close by pulling the rear edge of the control ...
Bluetooth® functions in the center console control panel
1 Character keys containing letters and numbers for dialing numbers, adding phone book entries, etc. 2 TEL: Press this button to activate/deactivate the Bluetooth® function. 3 TUNE: Turn to ...