Repairing stone chips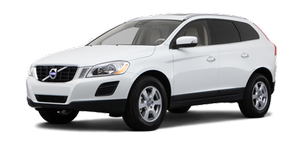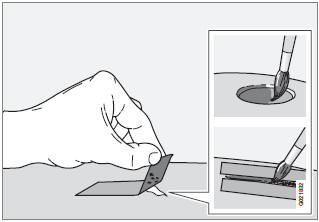 1. Place a strip of masking tape over the damaged surface. Pull the tape off so that any loose flakes of paint adhere to it.
2. Thoroughly mix the primer and apply it with a small brush.
3. When the primer surface is dry, the paint can be applied using a brush. Mix the paint thoroughly; apply several thin paint coats and let dry after each application.
4. If there is a longer scratch, you may want to protect surrounding paint by masking it off.
5. After a few days, polish the touched-up areas. Use a soft rag and a small amount of polish.
See also:
Storing preset stations
Ten preset stations can be stored for each waveband (AM, FM1, etc.). Stored preset stations are selected using the number key buttons on the center console. Manually storing preset stations 1. Tun ...
Anti-lock brakes (ABS)
If the ABS warning lamp lights up there is a malfunction in the ABS system (the standard braking system will however function) and the vehicle should be driven cautiously to a trained and qualifie ...
What is an Onboard Diagnostic System (OBD II)?
OBD II is part of your vehicle's computerized engine management system. It stores diagnostic information about your vehicle's emission controls. It can light the Check Engine light (MIL) if it ...