Cleaning floor mats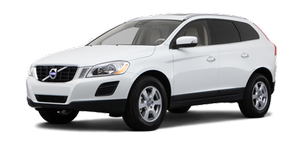 The floor mats should be vacuumed or brushed clean regularly, especially during winter when they should be taken out for drying. Spots on textile mats can be removed with a mild detergent.
For best protection in winter, Volvo recommends the use of Volvo rubber floor mats.
Consult your Volvo retailer.
See also:
Warning light—driver braking required
Adaptive Cruise Control can exert brake force that is equivalent to approximately 40% of the vehicle's total braking capacity. In situations requiring more brake force than ACC can provide and ...
Faults in the system
If the yellow warning symbol illuminates and PARK ASSIST SERVICE REQUIRED is shown on the information display, this indicates that the system is not functioning properly and has been disengage ...
When does BLIS function
The system functions when your vehicle is moving at speeds above 6 mph (10 km/h). When you pass another vehicle: The system reacts when you pass another vehicle at a speed of up to 6 mph (10 km/ ...