Hoisting the vehicle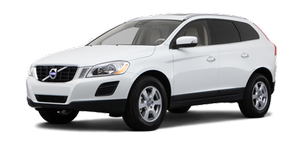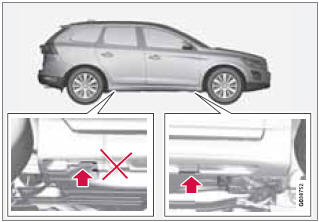 If a garage jack is used to lift the vehicle, the two jack attachments points should be used.
They are specially reinforced to bear the weight of the vehicle. A garage jack can also be placed under the front of the engine support frame.
Take care not to damage the splash guard under the engine. Ensure that the jack is positioned so that the vehicle cannot slide off it.
Always use axle stands or similar structures.
If a two-post hoist is used to lift the vehicle, the front and rear lift arm pads should be centered under the reinforced lift plates on the inboard edge of the sill rail (see illustration).
See also:
Locking and unlocking
Locking and unlocking the vehicle from the inside The switch on the driver's door armrest can be used to lock or unlock all doors and the tailgate, and to set the alarm. Each door can also be ...
High/low beam headlights
Continuous high beams 1. Set the ignition to mode II. 2. With the light switch in position 0 or , pull the turn signal lever toward the steering wheel to position 2 to toggle between high an ...
Selecting a station (in wavebands AM/FM1/FM2)
Automatic tuning 1. Press RADIO. Continue pressing this button to toggle to the desired waveband (AM, FM1, etc.). 2. Release the button and wait several seconds or press OK/MENU. 3. Press the ...