Hoisting the vehicle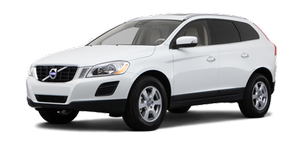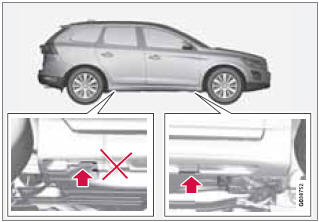 If a garage jack is used to lift the vehicle, the two jack attachments points should be used.
They are specially reinforced to bear the weight of the vehicle. A garage jack can also be placed under the front of the engine support frame.
Take care not to damage the splash guard under the engine. Ensure that the jack is positioned so that the vehicle cannot slide off it.
Always use axle stands or similar structures.
If a two-post hoist is used to lift the vehicle, the front and rear lift arm pads should be centered under the reinforced lift plates on the inboard edge of the sill rail (see illustration).
See also:
Main AM menu
AM menu Show presets Scan Audio settings Sound stage Equalizer Volume compensation Reset all audio settings ...
Sensor location
• The sunlight sensor is located on the top side of the dashboard. NOTE The sunlight sensor monitors which side of the car that is most exposed to sunlight. This can mean that the temperature m ...
Overview
1 AC – (ON/OFF) 2 Recirculation/Multifilter with sensor 3 Recirculation 4 AUTO 5 Air distribution 6 Passenger compartment temperature sensor 7 Defroster windshield and side windows 8 Rear win ...