Tire age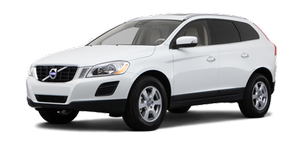 Tires degrade over time, even when they are not being used. It is recommended that tires generally be replaced after 6 years of normal service. Heat caused by hot climates, frequent high loading conditions or Ultra Violet (U.V.) exposure can accelerate the aging process.
The temporary spare1 should also be replaced at 6-year intervals, even if it has never been used.
A tire's age can be determined by the DOT stamp on the sidewall (see the illustration).
A tire with e.g., visible cracks or discoloration should be replaced immediately.
See also:
Guiding lines
The lines on the screen are projected as if they were a path on the ground behind the vehicle and are affected by the way in which the steering wheel is turned. This enables the driver to se ...
RSE front screen menus
To access this menu, begin by selecting RSE under MEDIA by pressing this button on the front center console (or by using the remote control or the steering wheel keypad). Continue by pressing ...
Ignition mode functions
The various ignition modes are accessed with the remote key in the ignition slot. ...