Tire age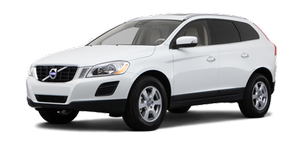 Tires degrade over time, even when they are not being used. It is recommended that tires generally be replaced after 6 years of normal service. Heat caused by hot climates, frequent high loading conditions or Ultra Violet (U.V.) exposure can accelerate the aging process.
The temporary spare1 should also be replaced at 6-year intervals, even if it has never been used.
A tire's age can be determined by the DOT stamp on the sidewall (see the illustration).
A tire with e.g., visible cracks or discoloration should be replaced immediately.
See also:
Getting Around
The C30 is a fun car to drive. It has a 227-horsepower, turbocharged five-cylinder engine that makes 236 pounds-feet of torque, which is a lot of power for such a small car. It's estimated to get ...
Engine compartment, overview
The appearance of the engine compartment may vary depending on engine model. Coolant expansion tank Power steering fluid reservoir Engine oil dipstick Radiator Filler cap for engine oil ...
Searching for contacts
Searching for contacts using the text wheel 1 List of characters 2 Switch between character entry modes (see the following table) 3 Phone book (list of contacts) To search for or edit a contac ...