2005 Volvo XC90 Review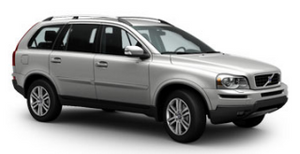 Volvo's best-selling vehicle, the XC90, which arguably is the best crossover sport utility on the market, now comes with optional V-8 power.
In the case of the XC90, this might be a matter of poor timing, seeing as how gasoline prices have spiked this year. I can't imagine going out and buying a V-8 anything right now, unless I needed the extra power to pull a trailer, for instance.
So if you're among the crowd of those who believe that to be a real car, a vehicle has to have a V-8, then this new XC90 4.4-liter V-8 model might be for you.
But as I've said before, those of us who have been Volvo fans for decades probably would agree that putting a V-8 in the XC90 or any Volvo, for that matter, borders on the absurd.
Not only do you have to pay more to get the V-8 to start with, but you'll end up paying more to drive it because of the extra fuel it consumes. Volvo's turbocharged five-cylinder engine, which is the base powerplant in the XC90, gets a respectable 18 miles per gallon in the city and 24 mpg on the highway; upgrade to the V-8, and those numbers drop to 14 city/20 highway.
That's similar, however, to the published fuel economy of the turbocharged inline six-cylinder engine that is now the midlevel offering in the XC90 -- 15 city/20 highway -- so I suppose that anyone considering the six might opt for the V-8 just to get the extra horsepower and torque. But I've tested the five-cylinder XC90, and I found it to have more than adequate power for my needs, although I didn't have any trailers to tow.
Unless you actually need the extra power, you can save a bunch of money buying the five- or six-cylinder model. Base price of our 2005 V-8 test model was $45,395 (plus $695 freight), while the six-cylinder model starts at $41,015, and the five-cylinder at a quite affordable $34,840 (well, affordable for those looking to buy a premium SUV, that is).
Compared with the five-cylinder, the V-8 costs nearly $11,000 more. And even the $4,380 difference you'd pay for the V-8 vs. the six-cylinder might be hard to justify, considering that you already get 268 horsepower and 280 foot-pounds of torque with the six-cylinder, vs. 311 hp. and 325 foot-pounds of torque with the V-8. Some SUVs on the market have V-8 engines with less horsepower (example: the 4.7-liter V-8 in the Jeep Grand Cherokee: 230 hp.).
I can understand why for competitive reasons Volvo felt that it needed a V-8. Some of the key competitors of the XC90 offer V-8 engines, including the BMW X-5, Cadillac Escalade, Mercedes-Benz M-class, Lincoln Navigator and Aviation, Land Rover LR3, Toyota 4Runner, and even the new Saab 9-7X. But it seems to be a bit of overkill, especially for a vehicle that has been touted for its safety.
The turbocharged inline six-cylinder engine in the XC90 has plenty of power, and even five-cylinder engine is adequate for many people's needs, with its 208 horsepower and 236 foot-pounds of torque.
Maintenance-wise, the new V-8 might have an edge. It is normally aspirated, so you don't have to worry about turbocharger problems that might crop up with the five- or six-cylinder engines. But beyond that, it's hard to make a case for the V-8. Volvo says no turbocharger is needed with that much power already on hand.
The new V-8 in the XC90 isn't made by Volvo, though. It does come from a well-respected Japanese company -- Yamaha -- so it should offer many miles and years of trouble-free service. Yamaha developed the engine specifically for use in the tight engine compartment of the XC90. Volvo said the engine had to be engineered into a 60-degree V instead of the usual 90-degree layout just so it could fit without having to add length to the car to accommodate the extra cylinders.
I suspect that Volvo's prediction will be right: Most buyers of the XC90 will come from other brands, particularly ones whose SUVs all have V-8 engines. The V-8 version of the XC90 apparently isn't meant for us longtime Volvo fans.
The XC90, Volvo's first SUV, is typically Volvo, though: a great vehicle, loaded with luxury amenities and the best safety features money can buy. It's also quite stylish, which is something new that has been added across the board at Volvo in the past few years as Ford Motor Co., which owns Volvo, has pushed the brand into the mainstream.
Based on the unibody chassis of Volvo's flagship S80 sedan, the XC90, introduced in 2003, is among the new crop of crossover SUVs, which have the shape, size and convenience of truck-based SUVs, but are built on car chassis and therefore have the ride and handling characteristics of cars. As with the other car-based SUVs, the XC90 isn't intended for off-road use.
But it hits the mark perfectly its targeted consumers: active families who need a well-made, comfortable and secure vehicle for everyday commuting and kid-hauling, as well as the occasional highway trip.
Volvo, which began developing the XC90 about two years before becoming a subsidiary of Ford, said that the main reason it took so long to bring an SUV to market was that the vehicle had to be a Volvo first, then a sport utility. That meant that Volvo needed to engineer it from the ground up to include the kinds of safety features found in other Volvo vehicles.
For Volvo, the challenge was to design a vehicle with SUV attributes, yet keep it safe enough for moms and kids. The answer was to use a low-slung car chassis, but put a platform in the floor to build up the passenger compartment while keeping the center of gravity low. As a result, the front seats of the XC90 are at least 6.5 inches higher than the seats in the Volvo XC70 station wagon, yet the center of gravity is just 3.5 inches higher.
To help control the vehicle during extreme maneuvers, Volvo included an electronic stability control system. This system automatically uses braking and engine speed reduction to help keep the car under control during events such as a drastic swerving. In the event a rollover does occur, this car is better prepared than most to protect its occupants. The roof is specially reinforced to withstand rollovers, and there is a side-curtain air bag system designed to inflate as a rollover begins and stay inflated until the rolling stops. It is triggered by a gyroscope that detects the beginning of a rollover. The XC90 has lower sub-bumpers front and rear that match the bumpers of normal cars, thereby preventing the SUV from running up over the fronts or rears of the other cars.
Although some SUVs have third-row seats that are just a few inches in from the tailgate, the XC90's seat is 18 inches from the rear of the car, and is mounted higher than normal to help protect the passengers in that seat -- usually children -- in the event the XC90 is rear-ended.
Our test model came with the same front-wheel-drive system as the S80, but an all-wheel drive system is offered for $1,750 extra. The V-8 engine is connected to a six-speed automatic gearbox. The XC90 has room for up to seven people, and even with the third seat in place, there is 11.1 cubic feet of cargo space.
Standard features abound in the XC90, including leather seats, power windows/mirrors/door locks with memory remote control, power eight-way adjustable driver's seat, dual-zone electronic climate control, tilt and telescoping steering column, trip computer, roof rails, 12 cup holders, in-dash AM/FM/CD player with steering-wheel controls, cruise control, and heated outside mirrors.
Our vehicle came with a touring package ($1,795) that added a 18-inch alloy wheels, premium sound system with six-disc in-dash CD player, wood trim and steering wheel, and leather shift knob; and a convenience package ($1,300) that tacked on rear park assist, cargo net and cover, power child locks, and power retractable side mirrors. Metallic paint added $475 to the sticker, which totaled $49,660 (including $695 freight).
The tank holds 21.1 gallons of fuel, and unleaded premium is recommended (but not required). G. Chambers Williams III is staff automotive columnist for the San Antonio Express-News and former transportation writer for the Star-Telegram. His automotive columns have appeared regularly in the Star-Telegram since 1995. Contact him at (210) 250-3236; chambers@star-telegram.com.
At a Glance - 2005 Volvo XC90 V-8
The package: Midsize, four-door, front- or all-wheel-drive, V-8 powered, seven-passenger, premium sport utility vehicle.
Highlights: Volvo's first sport utility debuted in 2003 with five- and six-cylinder turbocharged engines; now, Volvo has added a Yamaha-built V-8 to the mix. Based on the chassis of Volvo's flagship S80 luxury sedan, the XC90 is a crossover SUV that brings carlike ride and handling in a truck-size package. As always with Volvo, safety reigns supreme, and this just might be the safest sport utility on the market.
Engine: 4.4-liter V-8. Transmission: Six-speed automatic. Power/torque: 311 horsepower/325 foot-pounds. Length: 188.9 inches. Curb weight: 4,610 pounds. Cargo volume: 11.1 cubic feet (third seat in place). Brakes, front/rear: Disc/disc, antilock. Trailer towing capacity: 5,000 pounds. EPA fuel economy: 14 miles per gallon city/20 highway. Fuel capacity/type: 21.1 gallons/unleaded premium. Major competitors: Lexus LX 470, Mercedes-Benz M500, BMW X5, Infiniti QX56, Volkswagen Touareg V-8, Cadillac Escalade, Saab 9-7X V-8, Lincoln Navigator, Lincoln Aviator, Infiniti FX45. Base price: $45,395 plus $695 freight. Price as tested: $49,660 (including freight and options) On the Road rating: ****1/2 (four-and-a-half stars out of five).
Prices shown are manufacturer's suggested retail; actual selling prices may vary according to manufacturer and/or dealer rebates, incentives and/or discounts, if available.
See also:
Tire ratings
Speed ratings The speed ratings in the table translate as follow: Load ratings See page 276 for an explanation of the load rating on the sidewall of the tire. ...
Permissible axle weight
The maximum allowable weight that can be carried by a single axle (front or rear). These numbers are shown on the Federal/Canadian Motor Vehicle Safety Standards (FMVSS/ CMVSS) label. The tota ...
Heated front seats
The current seat temperature is shown in the center console display Press the button once for the highest heat level – three indicator lights come on. Press the button twice for a lower heat l ...