Opening/closing the fuel cap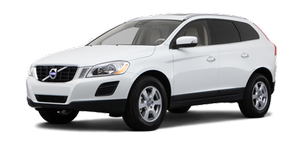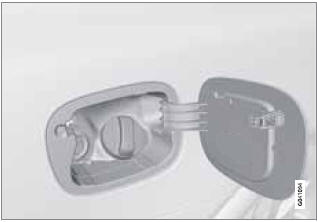 Fuel vapor expands in hot weather. Open the filler cap slowly.
After refueling, close the fuel filler cap by turning it clockwise until it clicks into place.
CAUTION • Do not refuel with the engine running.
Turn the ignition off or to position I. If the ignition is on, an incorrect reading could occur in the fuel gauge.
• Avoid overfilling the fuel tank. Do not press the handle on the filler nozzle more than one extra time. Too much fuel in the tank in hot weather conditions can cause the fuel to overflow. Overfilling could also cause damage to the emission control systems.
See also:
Battery maintenance
The battery in your vehicle is located under the floor of the cargo compartment. Driving habits and conditions, climate, the number of starts, etc. all affect the service life and function of th ...
Cargo area
Located behind the upholstery on the left side of the cargo area Positions NOTE Please consult a Volvo retailer's Parts department for the most up-to-date specifications. ...
Towing vehicles with front wheel drive/ All Wheel Drive
Volvo recommends the use of flat bed equipment. • If wheel lift equipment must be used, please use extreme caution to help avoid damage to the vehicle. In this case, the vehicle should be towed ...