Gasoline containing alcohol and ethers, "Oxygenated fuels"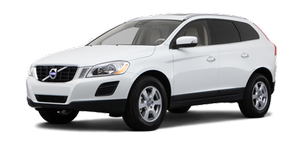 Some fuel suppliers sell gasoline containing "oxygenates" which are usually alcohols or ethers. In some areas, state or local laws require that the service pump be marked indicating use of alcohols or ethers. However, there are areas in which the pumps are unmarked. If you are not sure whether there is alcohol or ethers in the gasoline you buy, check with the service station operator. To meet seasonal air quality standards, some areas require the use of "oxygenated" fuel.
Volvo allows the use of the following "oxygenated" fuels; however, the octane ratings listed on page 267 must still be met.
Alcohol – Ethanol
Fuels containing up to 10% ethanol by volume may be used. Ethanol may also be referred to as Ethyl alcohol, or "Gasohol".
Ethers – MTBE: Fuels containing up to 15% MTBE may be used.
See also:
Safety
Crash tests have not been conducted on the 2012 Volvo XC70. As is required of all 2012 models, it has standard antilock brakes and an electronic stability system with traction control. It also com ...
Turn signals
When turning Move the lever as far up or down as possible (to position 2) to start the turn signals. The turn signals will be cancelled automatically by the movement of the steering wheel, or the ...
Heated washer nozzles
The washer nozzles are heated automatically in cold weather to help prevent the washer fluid from freezing. ...