Selecting a source for the rear screens from the front center control panel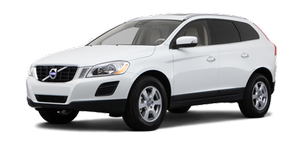 An audio/video source for the rear screen(s) can be selected from the front center control panel. The same source can be selected for both rear screens or different sources can be selected for the respective screens.
1. Press MEDIA several times to come to RSE on the front screen. Wait several seconds for your selection to be confirmed.
2. Turn TUNE to select one or both of the rear screens and confirm by pressing OK/ MENU.
3. Turn TUNE to select RADIO, MEDIA (or RSE settings). Press OK/MENU to confirm.
4. Turn TUNE to the desired source (for example, Disc) and confirm by pressing OK/MENU. The selected source will begin playing automatically (if there is a disc in the media player).
Cancel and return by pressing EXIT.
Settings can also be made with the remote control. See page 254 for more detailed information.
See also:
Channel lock
Access to specific channels can be restricted (locked). A locked channel will not provide audio, song titles, or artist information. NOTE All channels are initially unlocked. Locking a channel ...
Compatible file formats via the USB socket
The following audio and video files are supported by the system when playing a device connected to the USB socket. ...
Introduction
The Park Assist Camera uses the display in the center console to show the area behind the car while you are backing up. PAC also shows guiding lines in the on-screen image to indicate the direc ...