Searching for contacts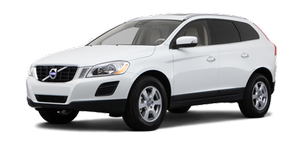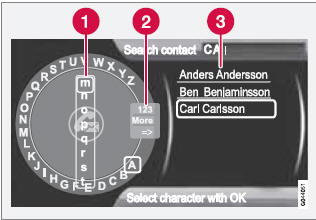 Searching for contacts using the text wheel
1 List of characters
2 Switch between character entry modes (see the following table)
3 Phone book (list of contacts)
To search for or edit a contact in phone mode, go to Phone menu

Phone book

Search.
1. Turn TUNE to the desired letter and press OK/MENU to confirm. The number/letter keys on the center console can also be used.
2. Continue to the next letter, etc. The results of the search will be displayed in the phone book (3).
3. To switch from letter entry mode to the entry mode for numbers or special characters, or to go to the phone book, turn TUNE to one of the selections (see the explanation in the following table) in the list for switching character entry mode (2) and press OK/MENU.
Character entry modes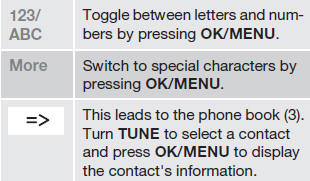 Press EXIT briefly to erase a single character.
Press and hold EXIT to erase all of the characters that have been entered.
If a number button on the center console is pressed while the text wheel is displayed, a list of characters (1) will be displayed. Briefly press the button once to enter its first letter, twice to enter the second letter, etc. Continue to press the button to display other characters. Continue with the next character, etc.
To enter a number, press and hold the button.
See also:
Power brakes function only when the engine is running
The power brakes utilize vacuum pressure which is only created when the engine is running. Never let the vehicle roll to a stop with the engine switched off. If the power brakes are not working, ...
Connecting cell phones
The procedure for connecting a cell phone varies, depending on the phone itself and on whether or not the phone has been previously paired with the infotainment system (see page 230 for instructio ...
Brake system
The brake system is a hydraulic system consisting of two separate brake circuits. If a problem should occur in one of these circuits, it is still possible to stop the vehicle with the other br ...