Searching for contacts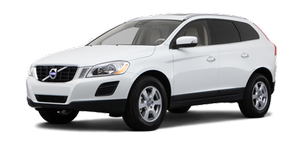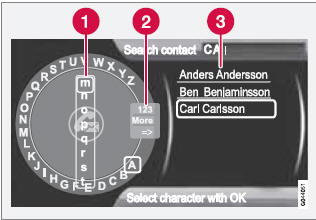 Searching for contacts using the text wheel
1 List of characters
2 Switch between character entry modes (see the following table)
3 Phone book (list of contacts)
To search for or edit a contact in phone mode, go to Phone menu

Phone book

Search.
1. Turn TUNE to the desired letter and press OK/MENU to confirm. The number/letter keys on the center console can also be used.
2. Continue to the next letter, etc. The results of the search will be displayed in the phone book (3).
3. To switch from letter entry mode to the entry mode for numbers or special characters, or to go to the phone book, turn TUNE to one of the selections (see the explanation in the following table) in the list for switching character entry mode (2) and press OK/MENU.
Character entry modes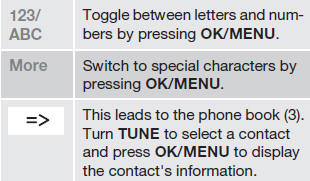 Press EXIT briefly to erase a single character.
Press and hold EXIT to erase all of the characters that have been entered.
If a number button on the center console is pressed while the text wheel is displayed, a list of characters (1) will be displayed. Briefly press the button once to enter its first letter, twice to enter the second letter, etc. Continue to press the button to display other characters. Continue with the next character, etc.
To enter a number, press and hold the button.
See also:
Fast forward/reverse
Press and hold the buttons to fast forward/reverse. This is done at one speed for audio files but several speeds can be chosen for video files. Press the buttons several times to increas ...
Design concept
The Volvo S80 is a car that expresses a more dynamic evolution of Volvo's exterior design language. It's more sweeping, more elegant, tighter surfaced, and has a leaner and more agile look. &quo ...
Navigating and playing tracks
Turn TUNE to access the device's playlist and to navigate in this list. Press OK/MENU to either select a sub-folder or confirm a choice and begin playback. Press EXIT to cancel and exit the pl ...