Searching for contacts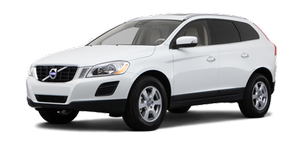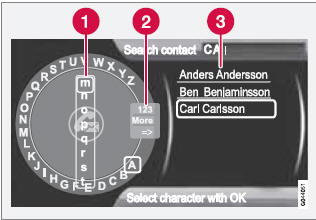 Searching for contacts using the text wheel
1 List of characters
2 Switch between character entry modes (see the following table)
3 Phone book (list of contacts)
To search for or edit a contact in phone mode, go to Phone menu

Phone book

Search.
1. Turn TUNE to the desired letter and press OK/MENU to confirm. The number/letter keys on the center console can also be used.
2. Continue to the next letter, etc. The results of the search will be displayed in the phone book (3).
3. To switch from letter entry mode to the entry mode for numbers or special characters, or to go to the phone book, turn TUNE to one of the selections (see the explanation in the following table) in the list for switching character entry mode (2) and press OK/MENU.
Character entry modes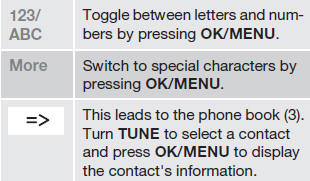 Press EXIT briefly to erase a single character.
Press and hold EXIT to erase all of the characters that have been entered.
If a number button on the center console is pressed while the text wheel is displayed, a list of characters (1) will be displayed. Briefly press the button once to enter its first letter, twice to enter the second letter, etc. Continue to press the button to display other characters. Continue with the next character, etc.
To enter a number, press and hold the button.
See also:
Options and accessor
Optional or accessory equipment described in this manual is indicated by an asterisk. Optional or accessory equipment may not be available in all countries or markets. Please note that some vehi ...
Speed dial
Speed dial numbers can be added in phone mode in Phone menu Phone book Speed dial. To use speed dial to make a call in phone mode, press a button on the center console keypad followed b ...
Storing a channel
A total of 20 satellite channels can be stored; 10 channels each for Sirius 1 and 2. • A long press on one of the number keys stores the currently tuned channel on that key. • A short press on a ...