Operation and function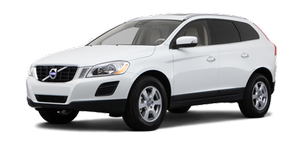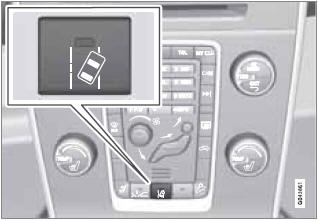 LDW can be switched on or off by pressing the button on the center console. A light in the button illuminates when the function is on.
The trip computer display shows Lane Depart Warn Standby <40 mph (Lane Depart Warn Standby <65 km/h) when the function is in standby mode.
When LDW is in standby mode, the function is activated automatically after the camera has monitored the road's side marker lines and the vehicle's speed exceeds 40 mph (65 km/h).
Lane Depart Warn Available will be displayed.
If the vehicle's speed falls below 37 mph (60 km/h), LDW will return to standby mode and Lane Depart Warn Standby <40 mph (65 km/h) will be displayed.
If the camera can no longer monitor the road's side marker lines, Lane Depart Warn Unavailable will be displayed.
If the vehicle unexpectedly crosses the lane's left or right side marker lines, the driver will be alerted by an audible signal.
No warning signal will be given in the following situations:
• The turn signal is being used
• The driver's foot is on the brake pedal
• The throttle pedal is pressed quickly
• If the steering wheel is moved quickly
• In sharp turns that cause the vehicle's body to sway
See page 176 for information on the camera's limitations.
WARNING
The driver will only be warned once for each time the wheels cross a marker line. No alarm will be given if a marker line is between the wheels.
See also:
Limitations
Strong sunlight, reflections, extreme light contrasts, the use of sunglasses, or if the driver is not looking straight ahead may make the visual warning signal in the windshield difficult to see. ...
Load anchoring eyelets
The load anchoring eyelets on both sides of the vehicle are used to fasten straps, etc., to help anchor items in the trunk. WARNING Cover sharp edges on long loads to help prevent injury ...
How do states use OBD II for emission inspections?
Many states connect a computer directly to a vehicle's OBD II system. The inspector can then read "faults." In some states, this type of inspection has replaced the tailpipe emission ...