Operation and function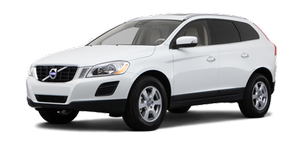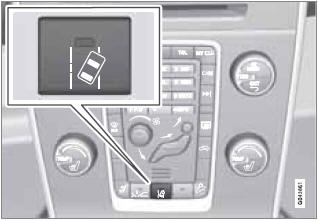 LDW can be switched on or off by pressing the button on the center console. A light in the button illuminates when the function is on.
The trip computer display shows Lane Depart Warn Standby <40 mph (Lane Depart Warn Standby <65 km/h) when the function is in standby mode.
When LDW is in standby mode, the function is activated automatically after the camera has monitored the road's side marker lines and the vehicle's speed exceeds 40 mph (65 km/h).
Lane Depart Warn Available will be displayed.
If the vehicle's speed falls below 37 mph (60 km/h), LDW will return to standby mode and Lane Depart Warn Standby <40 mph (65 km/h) will be displayed.
If the camera can no longer monitor the road's side marker lines, Lane Depart Warn Unavailable will be displayed.
If the vehicle unexpectedly crosses the lane's left or right side marker lines, the driver will be alerted by an audible signal.
No warning signal will be given in the following situations:
• The turn signal is being used
• The driver's foot is on the brake pedal
• The throttle pedal is pressed quickly
• If the steering wheel is moved quickly
• In sharp turns that cause the vehicle's body to sway
See page 176 for information on the camera's limitations.
WARNING
The driver will only be warned once for each time the wheels cross a marker line. No alarm will be given if a marker line is between the wheels.
See also:
Power steering fluid reservoir
The fluid level should always be between the ADD and FULL marks. Fluid type: Volvo synthetic power steering fluid (Pentosin CHF 11S) P/N 1161529 or equivalent. Replace: No fluid change requi ...
Faults in the system
If the information symbol illuminates and Park assist syst Service required is shown on the information display, this indicates that the system is not functioning properly and has been disengaged. ...
Polishing and waxing
• Normally, polishing is not required during the first year after delivery, however, waxing may be beneficial. • Before applying polish or wax the vehicle must be washed and dried. Tar spots can ...