The laser sensor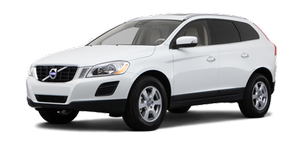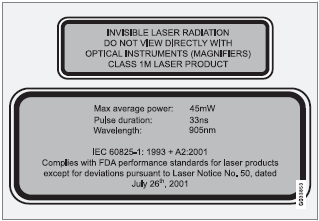 The upper decal describes the laser beam's classification and contains the following text:
Invisible Laser radiation – Do not view directly with optical instruments (magnifiers) – Class 1M laser product.
The lower decal describes the laser beam's physical data and contains the text:
IEC 60825-1:1993 + A2:2001. Complies with FDA performance standards for laser products except for deviations pursuant to Laser Notice No. 50, dated July 26th, 2001 The laser beam's physical data is listed in the following table: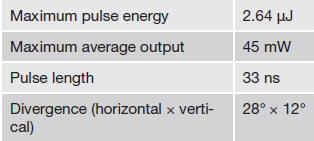 NOTE
The function of aftermarket laser detectors may be affected by City Safety's laser sensor.
WARNING
The laser sensor emits light when the ignition is in mode II or higher, even if City Safety™ has been switched off.
WARNING
Eye injury may occur if any of the following points are not followed:
• It is essential that all pertinent instructions be followed when handling laser instruments. Testing, repairing, removing, adjusting and/or replacing any components in the laser sensor may only be done by a trained and qualified Volvo service technician.
• Do not remove the laser sensor (including removal of the lenses). A laser sensor that has been removed belongs to laser class 3B according to standard IEC 60825-1. Devices in laser class 3B present a risk of injury to the eyes.
• The laser sensor's connector must be disconnected before the sensor is removed from the windshield.
• The laser sensor must be mounted in place on the windshield before connecting the sensor's connector.
• Do not view the laser sensor (which emits spreading, invisible laser beams) with optical instruments from a distance of less than 4 inches (100 mm).
See also:
Automatic Locking Retractor/ Emergency Locking Retractor (ALR/ ELR)
To make child seat installation easier, each seat belt (except for the driver's belt) is equipped with a locking mechanism to help keep the seat belt taut. When attaching the seat belt to a chi ...
Storing wheels and tires
When storing complete wheels (tires mounted on rims), they should be suspended off the floor or placed on their sides on the floor. Tires not mounted on rims should be stored on their sides or ...
On and off
To switch Collision Warning on or off, press MY CAR on the center console control panel and go to Settings Car settings Driver support systems Collision Warning. If Collision Warni ...