Auxiliary sound level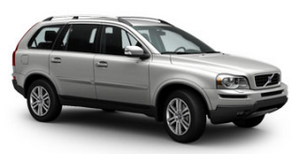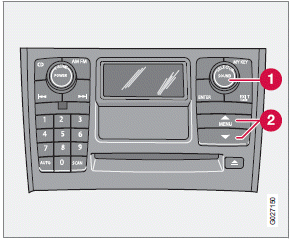 If the external sound source's volume is too high, the quality of the sound may be impaired.
This can be prevented by adjusting the external sound source's input volume.
1. While playing the radio or a CD, lower the audio volume to about one-quarter.
2. Switch to AUX mode on the audio system.
3. Connect the headphone output from your music player to the AUX input using a cable with a stereo 3.5 mm miniplug at both ends.
4. Set your music player's headphone volume to three-quarters using the player's volume controls.
5. Select AUX VOLUME in the menu and press ENTER.
6. Adjust the volume with SELECTOR (1) or with the up/down arrows (2) and press ENTER.
7. If there is distortion, lower your music player's headphone volume until the distortion goes away.
Finally, exit the menu and adjust the audio volume to a comfortable level.
NOTE
This cannot be done with the steering wheel keypad.
See also:
Security
Volvo's holistic approach to vehicle design also extends to the field of personal security and it has won overall 'Best Manufacturer' in the annual British Insurance Car Security Awards (BISCA) tw ...
Integrated roof rails
The roof rails provide a solid and tight impression. They are available in two versions - Charcoal (standard) or Silk-Metal - and built into the car at the factory. ...
Lane Departure Warning (LDW)– introduction
This function is designed to help reduce the risk of accidents in situations where the vehicle leaves its lane and there is a risk of driving off the road or into the opposite lane. LDW consis ...