Auxiliary sound level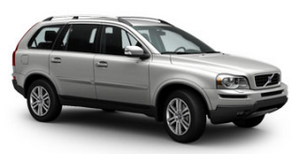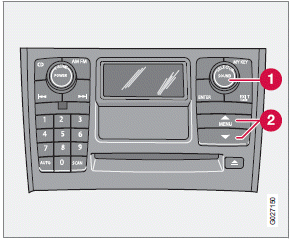 If the external sound source's volume is too high, the quality of the sound may be impaired.
This can be prevented by adjusting the external sound source's input volume.
1. While playing the radio or a CD, lower the audio volume to about one-quarter.
2. Switch to AUX mode on the audio system.
3. Connect the headphone output from your music player to the AUX input using a cable with a stereo 3.5 mm miniplug at both ends.
4. Set your music player's headphone volume to three-quarters using the player's volume controls.
5. Select AUX VOLUME in the menu and press ENTER.
6. Adjust the volume with SELECTOR (1) or with the up/down arrows (2) and press ENTER.
7. If there is distortion, lower your music player's headphone volume until the distortion goes away.
Finally, exit the menu and adjust the audio volume to a comfortable level.
NOTE
This cannot be done with the steering wheel keypad.
See also:
Changing a wheel
WARNING The undersides of accessory running boards are not intended for attaching the jack. 1. Park the vehicle on a firm, level, non-slippery surface. 2. Engage the parking brake and put the ...
If the BRAKE and ABS warning lights comeon at the same time, this could indicate afault in the brake system.
Х Stop the vehicle in a suitable place and switch off the engine. Х Restart the engine. Х If both warning lights go off, no further action is required. Х If both lights are still on after the eng ...
Towing a trailer
The maximum weights recommended by Volvo for trailers with brakes are shown in the table below. Recommended hitch tongue load: not more than 10% of the trailer's weight. The trailer load should ...