2012 Volvo XC70 Review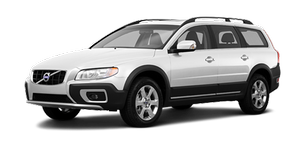 The Volvo XC70 is the quintessential station wagon, the most "Volvo-like" Volvo on the road today. Having one parked in my driveway takes me back to my childhood — riding to and from school in a wood-paneled station wagon, dressed in my finest monogrammed velour jumpsuit, John Denver (on eight-track) filling the voluminous interior.
With the exception of its exterior design, which hasn't evovled enough from the old-school station wagon of the '70s, the 2013 Volvo XC70 is every bit as comfortable and practical a family hauler as its ancestor.
The 2012 XC70 comes in a variety of configurations. I drove the mid-level T6 AWD with a turbocharged 3.0-liter six-cylinder engine and all-wheel drive. The entry-level 3.2 has front-wheel drive. See these trims compared side-by-side with the top-level T6 Platinum AWD here. This year's XC70 hasn't changed much since the previous model year. See the 2012 and 2011 compared here.
See also:
Changing the set speed
After a speed has been set, it can be increased or decreased by using the or buttons. Each time one of these buttons is pressed, the vehicle's speed changes by 5 mph (approximately 8 km/h). ...
The Federal Clean Air Act – U.S.
The Federal Clean Air Act requires vehicle manufacturers to furnish written instructions to the ultimate purchaser to assure the proper servicing and function of the components that control emissi ...
Clock
Clock and setting control 1 Display 2 Control for setting the clock Turn the control clockwise/counterclockwise to set the time. The set time is shown in the information display. The clock m ...