2012 Volvo XC70 Review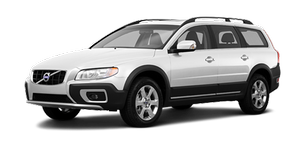 The Volvo XC70 is the quintessential station wagon, the most "Volvo-like" Volvo on the road today. Having one parked in my driveway takes me back to my childhood — riding to and from school in a wood-paneled station wagon, dressed in my finest monogrammed velour jumpsuit, John Denver (on eight-track) filling the voluminous interior.
With the exception of its exterior design, which hasn't evovled enough from the old-school station wagon of the '70s, the 2013 Volvo XC70 is every bit as comfortable and practical a family hauler as its ancestor.
The 2012 XC70 comes in a variety of configurations. I drove the mid-level T6 AWD with a turbocharged 3.0-liter six-cylinder engine and all-wheel drive. The entry-level 3.2 has front-wheel drive. See these trims compared side-by-side with the top-level T6 Platinum AWD here. This year's XC70 hasn't changed much since the previous model year. See the 2012 and 2011 compared here.
See also:
Zoom
The camera can be useful when attaching a trailer. Press CAM to zoom in on the trailer hitch (and press this button again to return to the normal camera view). With the camera zoomed in on the trai ...
Power windows
The power windows are controlled by buttons in the arm rests. The ignition switch must be ON1 (ignition key in position I, II or the engine running) for the electrically operated windows to functi ...
Gauges
Gauges in the instrument panel 1 - Speedometer 2 - Fuel gauge. Please note that the fuel level indicator in the gauge moves from right to left as the amount of fuel in the tank decreases. The ar ...