2012 Volvo XC70 Review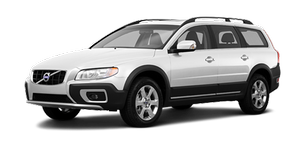 The Volvo XC70 is the quintessential station wagon, the most "Volvo-like" Volvo on the road today. Having one parked in my driveway takes me back to my childhood — riding to and from school in a wood-paneled station wagon, dressed in my finest monogrammed velour jumpsuit, John Denver (on eight-track) filling the voluminous interior.
With the exception of its exterior design, which hasn't evovled enough from the old-school station wagon of the '70s, the 2013 Volvo XC70 is every bit as comfortable and practical a family hauler as its ancestor.
The 2012 XC70 comes in a variety of configurations. I drove the mid-level T6 AWD with a turbocharged 3.0-liter six-cylinder engine and all-wheel drive. The entry-level 3.2 has front-wheel drive. See these trims compared side-by-side with the top-level T6 Platinum AWD here. This year's XC70 hasn't changed much since the previous model year. See the 2012 and 2011 compared here.
See also:
CHECK ENGINE Malfunction indicatorlight
On-Board Diagnostics II (OBDII): As you drive, a computer called "OBDII" monitors your vehicle's engine, transmission, electrical and emission systems. The CHECK ENGINE light will light ...
Laminated glass
This glass is reinforced to help provide protection against break-ins and improved sound insulation in the passenger compartment. The windshield, laminated panoramic roof and other windows ...
Activating/deactivating
console activates the hands-free system. The symbol in the display indicates that the hands-free system is active. A long press on the TEL button deactivates the hands-free system and disconnects ...