2012 Volvo XC70 Review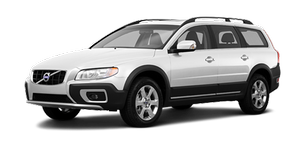 The Volvo XC70 is the quintessential station wagon, the most "Volvo-like" Volvo on the road today. Having one parked in my driveway takes me back to my childhood — riding to and from school in a wood-paneled station wagon, dressed in my finest monogrammed velour jumpsuit, John Denver (on eight-track) filling the voluminous interior.
With the exception of its exterior design, which hasn't evovled enough from the old-school station wagon of the '70s, the 2013 Volvo XC70 is every bit as comfortable and practical a family hauler as its ancestor.
The 2012 XC70 comes in a variety of configurations. I drove the mid-level T6 AWD with a turbocharged 3.0-liter six-cylinder engine and all-wheel drive. The entry-level 3.2 has front-wheel drive. See these trims compared side-by-side with the top-level T6 Platinum AWD here. This year's XC70 hasn't changed much since the previous model year. See the 2012 and 2011 compared here.
See also:
Exterior
Some V50 design characteristics were borrowed from early Volvo wagons. Still, styling hasn't veered dramatically away from the V40. Volvo notes that "from above, the body resembles the shape ...
Replacing the battery
1. Switch off the ignition. 2. Wait at least 5 minutes after switching off the ignition before disconnecting the battery so that all information in the vehicle's electrical system can be stored ...
Inflating tires
The tire sealing system can be used to inflate the tires. To do so: 1. Park the car in a safe place. 2. The compressor should be switched off. Ensure that the on/off switch is in position 0 (the 0 ...