Family-friendly features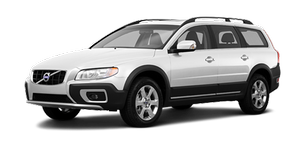 The interior of the XC70 is all about space, storage and simple functionality. Up front, the driver and front passenger have access to storage bins in their doors, two cupholders in front of the center console, and an extra storage bin that's perfect for stashing an iPhone. The "floating" center control panel — inspired by a Bang & Olufsen remote control — is visually clean and easy to operate at a glance without distracting you from the road. The "floating" piece leaves a small storage area behind the audio controls. Front passengers will appreciate being able to control their air independently. When driving solo, though, the lack of a "dual" button to sync the temperature for both sides was bothersome.
The driver's seat, with standard eight-way power adjustability and three memory settings, combined with a tilt/telescoping steering wheel to provide a comfortable driving position for both me (5-foot-3) and my husband (6-foot-2). However, I did find myself stretching to see up and over the wagon's long nose when pulling into parking spaces. The seats were incredibly comfortable, allowing for long road trips sans fatigue for driver and passenger.
The backseat is quite spacious, both in width and legroom. While the XC70 does come with optional integrated booster seats in the two outboard positions in back (I highly recommend this $500 feature for anyone transporting kids who are currently in or will eventually grow into booster seats), my test car didn't have them. I was still able to fit my two youngest kids, ages 7 and 9, in Britax high-back booster seats comfortably in the outboard positions, with plenty of space left over for my 11-year-old to sit in the middle without her shoulders being crushed between the two boosters. The kids also had more than enough legroom when my husband's seat was moved back to accommodate his long legs.
With only two kids in the backseat, the center position's seatback folds down into an armrest with a storage bin and two cupholders. Backseat passengers also have their own air vents, a feature much appreciated in the hot summer months.
The XC70's cargo space is absolutely huge, with 72.1 cubic feet of storage volume with the rear seats folded. That's more than the Subaru Outback's 71.3 cubic feet (see them compared). There's so much space back there I found myself wishing for the ability to convert all that cargo space into extra seating with the addition of a fold-away jump seat, like the one in the Mercedes-Benz E-Class wagon.
See also:
Windshield wiper blades
To change a windshield wiper blade: 1. Fold the wiper arm out from the windshield and hold the wiper blade. 2. Press in the grooved catches and pull out the wiper blade. 3. Insert a new wiper ...
SIRIUS ID
The SIRIUS ID (sometimes referred to as the Electronic Serial Number or ESN) is required when contacting the Sirius Call Center. It is used to activate your account and when making any account ...
Introduction
The HomeLink1 Wireless Control System provides a convenient way to replace up to three hand-held radio-frequency (RF) transmitters used to activate devices such as gate operators, garage door op ...