Behind the wheel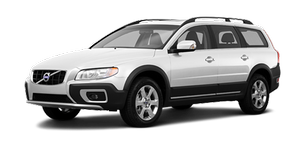 Driving the XC70's turbocharged 3.0-liter V-6 took some getting used to. I appreciated the surprisingly zippy kick-in-the-pants feel, as opposed to the sluggishly heavy acceleration I anticipated in such a large wagon. However, it was hard to get the feel for accelerating smoothly during stop-and-go driving without throwing my passengers' heads back into their seats. During one particularly long errand session, my 11-year-old daughter started complaining of some motion sickness.
The braking is soft in comparison, and switching between gently accelerating and more forcefully braking was a challenge the entire week I drove the Volvo.
I've heard others describe the XC70's cornering as topsy turvy and more consistent with an SUV, but this must be highly subjective. To me, the XC70 felt solid and well-connected to the road in corners, while soft enough to float over rough pavement without discomfort.
The EPA estimates the XC70 T6 AWD's mileage at 17/23 mpg city/highway. The less-powerful 3.2 model with front-wheel drive is more efficient, at 19/25 mpg. If you choose this wagon rather than a similarly utilitarian SUV, it shouldn't be for gas-saving purposes. Volvo recommends premium fuel to optimize the XC70's performance.
See also:
Uniform Tire Quality Grading
ALL PASSENGER VEHICLE TIRES MUST CONFORM TO FEDERAL SAFETY REQUIREMENTS IN ADDITION TO THESE GRADES Quality grades can be found, where applicable, on the tire sidewall between the tread shoulder ...
Cold weather precautions
If you wish to check your vehicle before the approach of cold weather, the following advice is worth noting: • Make sure that the engine coolant contains 50 percent antifreeze. Any other mixtur ...
What is an Onboard Diagnostic System (OBD II)?
OBD II is part of your vehicle's computerized engine management system. It stores diagnostic information about your vehicle's emission controls. It can light the Check Engine light (MIL) if it ...