Introduction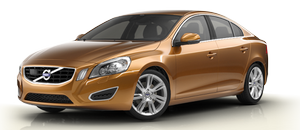 Your vehicle is equipped with tires according to the vehicle's tire information placard on the B-pillar (the structural member at the side of the vehicle, at the rear of the driver's door opening).
CAUTION
Some Volvo models are equipped with an Ultra High Performance tire and wheel combination designed to provide maximum dry pavement performance with consideration for hydroplaning resistance. They may be more susceptible to road hazard damage and, depending on driving conditions, may achieve a tread life of less than 20,000 miles (30,000 km). Even if this vehicle is equipped with Volvo's advanced AWD or DSTC system, these tires are not designed for winter driving, and should be replaced with winter tires when weather conditions dictate.
The tires have good road holding characteristics and offer good handling on dry and wet surfaces. It should be noted however that the tires have been developed to give these features on snow/ice-free surfaces.
Most models are equipped with "all-season" tires, which provide a somewhat higher degree of road holding on slippery surfaces than tires without the "all-season" rating. However, for optimum road holding on icy or snow-covered roads, we recommend suitable winter tires on all four wheels.
When replacing tires, be sure that the new tires are the same size designation, type (radial) and preferably from the same manufacturer, on all four wheels. Otherwise there is a risk of altering the car's roadholding and handling characteristics.
See also:
Style
There are three C70 T5 trim levels: base, Premier Plus and Platinum. Our test car was a Platinum with the Inscription option package. The Platinum trim includes a number of exterior and interior a ...
PARK BRAKE Parking brake applied
This light will be on when the parking brake (hand brake) is applied. The parking brake pedal is located on the left side of the driver's footwell, see page 79 for more information. Canadian mode ...
Reporting safety defects in the U.S.
If you believe that your vehicle has a defect which could cause a crash or could cause injury or death, you should immediately inform the National Highway Traffic Safety Administration (NHTSA) in ...