Tire age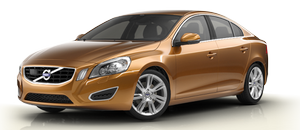 Tires degrade over time, even when they are not being used. It is recommended that tires generally be replaced after 6 years of normal service. Heat caused by hot climates, frequent high loading conditions or Ultra Violet (U.V.) exposure can accelerate the aging process. The temporary spare1 should also be replaced at 6-year intervals, even if it has never been used.
A tire's age can be determined by the DOT stamp on the sidewall (see the illustration).
A tire with e.g., visible cracks or discoloration should be replaced immediately.
Improving tire economy
Maintain correct tire pressure. See the tire inflation table on page 275.
Drive smoothly: avoid fast starts, hard braking and tire screeching.
Tire wear increases with speed.
Correct front wheel alignment is very important.
Unbalanced wheels impair tire economy and driving comfort.
Tires must maintain the same direction of rotation throughout their lifetime.
When replacing tires, the tires with the most tread should be mounted on the rear wheels to reduce the chance of oversteer during hard braking.
Hitting curbs or potholes can damage the tires and/or wheels permanently.
See also:
High beam, Halogen
1. Remove the headlight housing from the vehicle (see page 306). 2. Remove the cover over the bulbs (see page 308). 3. Remove the bulb by turning it counterclockwise and pulling it straight out. ...
Limitations
In certain situations, the BLIS indicator light(s) may illuminate even when there are no other vehicles in the area monitored by the system. NOTE If the BLIS indicator lights illuminate occasional ...
Replacing the battery
1. Switch off the ignition. 2. Wait at least 5 minutes after switching off the ignition before disconnecting the battery so that all information in the vehicle's electrical system can be stored ...