Putting ACC in standby mode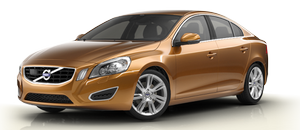 Before ACC can be used to regulate speed and/or the distance to a vehicle ahead, it must first be put in standby mode.
To do so:
Press

.
The

symbol appears in the display and parentheses (---) indicate that ACC is in standby mode.

NOTE
The driver's door must be closed and the driver's seat belt must be fastened before ACC can be put in active mode. If the driver's seat belt is taken off or if the driver's door is opened, ACC will return to standby mode.
See also:
Engaging the cruise control function
Before a speed can be set, the cruise control system must be engaged (put in standby mode). Press the symbol (1). > The symbol illuminates and the text (---) mph (5) indicates that crui ...
Decals
There are various types of decals in the vehicle whose purpose is to provide important information in a clear and concise way. The importance of these decals is explained as follows, in descending ...
Engine compartment
1 Brake fluid reservoir 2 Relay/fuse box 3 Air cleaner 4 Radiator 5 Dipstick-engine oil 6 Filler cap-engine oil 7 Washer fluid reservoir 8 Power steering fluid reservoir 9 Expansion tank-coo ...