Re-installing the wheel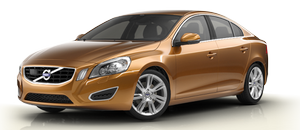 1. Clean the contact surfaces on the wheel and hub.
2. Lift the wheel and place it on the hub.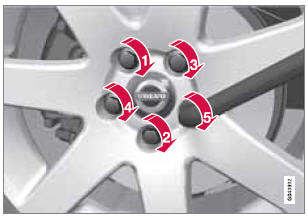 Tighten the lug nuts
3. Install the wheel nuts and tighten handtight. Using the lug wrench, tighten crosswise until all nuts are snug.
4. Lower the vehicle to the ground and alternately tighten the bolts crosswise to 103 ft. lbs. (140 Nm).
5. Install the wheel cover (where applicable). The opening in the wheel cover for the tire's inflation valve must be positioned over the valve.
See also:
Zoom
The camera can be useful when attaching a trailer. Press CAM to zoom in on the trailer hitch (and press this button again to return to the normal camera view). With the camera zoomed in on the trai ...
Cleaning the interior
Only use cleaning agents and car care products recommended by Volvo. Clean regularly and follow the instructions included with the car care product. ...
Severe strain on the brake system
The brakes will be subject to severe strain when driving in mountains or hilly areas, or when towing a trailer. Vehicle speed is usually slower, which means that the cooling of the brakes is less ...