Re-installing the wheel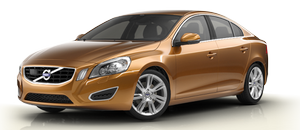 1. Clean the contact surfaces on the wheel and hub.
2. Lift the wheel and place it on the hub.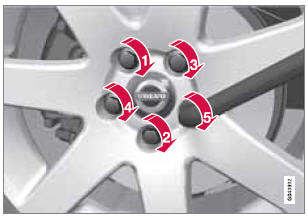 Tighten the lug nuts
3. Install the wheel nuts and tighten handtight. Using the lug wrench, tighten crosswise until all nuts are snug.
4. Lower the vehicle to the ground and alternately tighten the bolts crosswise to 103 ft. lbs. (140 Nm).
5. Install the wheel cover (where applicable). The opening in the wheel cover for the tire's inflation valve must be positioned over the valve.
See also:
Unlocking the vehicle
A keyless drive remote key must be on the same side of the vehicle as the door to be opened, and be within 5 feet (1.5 meters) of the door's lock or the trunk (see the shaded areas in the ...
High/low beam headlights
Headlight switch and lever 1 - High beam flash 2 - Toggle between high and low beams High beam flash Move the lever toward the steering wheel to position 1. The high beams come on until the ...
Engine oil
Engine oil must meet the minimum ILSAC specification GF-4, API SL, or ACEA A1/B1. Lower quality oils may not offer the same fuel economy, engine performance, or engine protection. Volvo recommend ...