Re-installing the wheel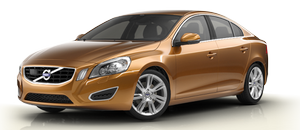 1. Clean the contact surfaces on the wheel and hub.
2. Lift the wheel and place it on the hub.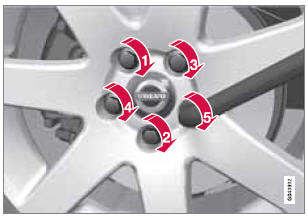 Tighten the lug nuts
3. Install the wheel nuts and tighten handtight. Using the lug wrench, tighten crosswise until all nuts are snug.
4. Lower the vehicle to the ground and alternately tighten the bolts crosswise to 103 ft. lbs. (140 Nm).
5. Install the wheel cover (where applicable). The opening in the wheel cover for the tire's inflation valve must be positioned over the valve.
See also:
Tire sealing system–temporarilyrepairing a flat tire
Temporarily repairing a flat tire is done in two stages: • Stage 1: The hole is sealed by pumping sealing compound into the tire. The car is then driven a short distance to distribute the sea ...
Storage compartment in the centerconsole
To open the lid on the storage compartment, press the lower edge of the opening latch (see illustration above). This lid can be folded back to form a small table area for rear seat passengers. ...
Jump starting
Follow these instructions to jump start your vehicle's dead battery or to jump start another vehicle's dead battery using your vehicle. Although your vehicle's battery is located under the flo ...