Fuel filler door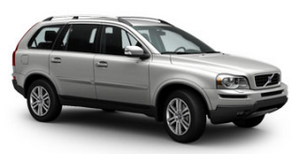 Press the button on the light switch panel (see the illustration on page 67) when the vehicle is at a standstill to unlock the fuel filler door.
Please note that the fuel filler door will remain unlocked until the vehicle begins to move forward.
An audible click will be heard when the fuel filler door relocks.
See also:
Decals
There are various types of decals in the vehicle whose purpose is to provide important information in a clear and concise way. The importance of these decals is explained as follows, in descen ...
IR-reflecting windshield
Section of the windshield where the IR-coating is not applied An optional factory-installed infrared (IR) coating can be applied to the windshield to help protect the cabin from the sun's hea ...
Parking the vehicle in warm weather
If your vehicle has been parked in the sun in warm weather, opening the windows and moonroof for several minutes before driving will help release the warm air from the passenger compartment. When ...