Locking or unlocking the vehicle with the key blade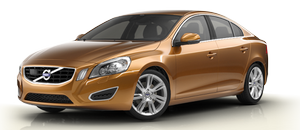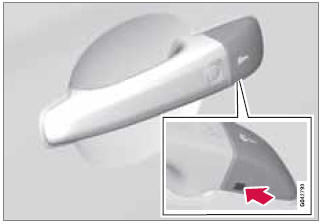 Keyless drive keyhole cover
The driver's door on vehicles equipped with keyless drive can be locked or unlocked with the remote key's detachable key blade if necessary, see page 59 for information on removing the key blade from the remote key. To access the keyhole in the driver's door:
1. Press the key blade approx. 0.5 in. (1 cm) straight up in the hole on the underside of the keyhole cover.
> The cover will come off due to the pressure exerted when the key blade is pushed upward.
2. Insert the key blade as far as possible in the driver's door lock. Turn the key blade to unlock the driver's door only. This will trigger the alarm. Press the remote key into the ignition slot to turn off the alarm.
3. Press the cover back into place after the door has been unlocked.
See also:
Unlocking a channel
A channel's access code2 is required to unlock a channel. Unlock all channels This permanently removes all channels from the locked list and makes them available for selection. Temporarily un ...
How can I prepare for my next OBD II emission inspection?
Х If your Check Engine (MIL) light is lit Ц or was lit but went out without service, have your vehicle diagnosed and, if necessary, serviced by a qualified Volvo technician. Х If you recently h ...
Taking out the spare wheel
1. Open the floor hatch. 2. Undo the retaining bolt. 3. Lift out the foam block. 4. Lift out the spare wheel. The other two blocks can remain in the spare wheel well. After use The foam block ...