Locking or unlocking the vehicle with the key blade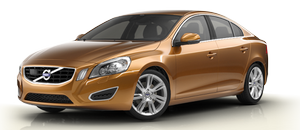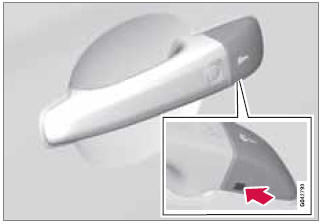 Keyless drive keyhole cover
The driver's door on vehicles equipped with keyless drive can be locked or unlocked with the remote key's detachable key blade if necessary, see page 59 for information on removing the key blade from the remote key. To access the keyhole in the driver's door:
1. Press the key blade approx. 0.5 in. (1 cm) straight up in the hole on the underside of the keyhole cover.
> The cover will come off due to the pressure exerted when the key blade is pushed upward.
2. Insert the key blade as far as possible in the driver's door lock. Turn the key blade to unlock the driver's door only. This will trigger the alarm. Press the remote key into the ignition slot to turn off the alarm.
3. Press the cover back into place after the door has been unlocked.
See also:
How BLIS functions in daylight and darkness
Daylight BLIS reacts to the shape of surrounding vehicles. The system is designed to help detect motor vehicles such as cars, trucks, buses, motorcycles, etc. Darkness BLIS reacts to the headligh ...
Infotainment system volume
If no phone call is in progress, volume for the infotainment system can be adjusted in the normal way with the infotainment system's VOL control or from the steering wheel keypad. Infotainment ...
Rear park assist
The distance monitored behind the vehicle is approximately 5 ft (1.5 m). The audible signal comes from the rear speakers. The system must be deactivated when towing a trailer, carrying bicycles i ...