Locking or unlocking the vehicle with the key blade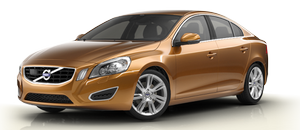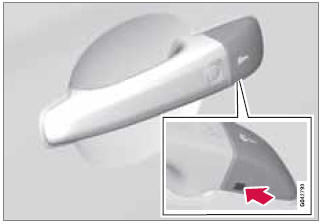 Keyless drive keyhole cover
The driver's door on vehicles equipped with keyless drive can be locked or unlocked with the remote key's detachable key blade if necessary, see page 59 for information on removing the key blade from the remote key. To access the keyhole in the driver's door:
1. Press the key blade approx. 0.5 in. (1 cm) straight up in the hole on the underside of the keyhole cover.
> The cover will come off due to the pressure exerted when the key blade is pushed upward.
2. Insert the key blade as far as possible in the driver's door lock. Turn the key blade to unlock the driver's door only. This will trigger the alarm. Press the remote key into the ignition slot to turn off the alarm.
3. Press the cover back into place after the door has been unlocked.
See also:
Low beams
When the engine is started, the low beams are activated automatically (daytime running lights) if the headlight control is in position 0 or . Daytime running lights can be deactivated in the ...
Driver distraction
A driver has a responsibility to do everything possible to ensure his or her own safety and the safety of passengers in the vehicle and others sharing the roadway. Avoiding distractions is part of ...
When does BLIS function
The system functions when your vehicle is moving at speeds above 6 mph (10 km/h). When you pass another vehicle: The system reacts when you pass another vehicle at a speed of up to 6 mph (10 km/ ...