Driving distance on current fuel reserve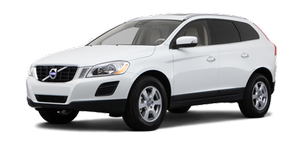 This function shows the approximate distance that can be driven on the fuel remaining in the tank. The calculation is based on average fuel consumption during the last 20 miles (30 km) of driving and the amount of fuel remaining in the tank when the reading was taken. When the message ---- miles to empty tank appears in the display, refuel as soon as possible.
NOTE
The actual distance that can be driven on the usable fuel remaining in the tank may be influenced by a change in driving style.
See also page 262 for information on driving economically.
Resetting
1. Select --- mph average speed or --.- mpg average.
2. Press and hold RESET for approx. 1 second to reset the selected function. If RESET is kept depressed for at 3 three seconds, Average speed and Average fuel consumption are reset simultaneously.
See also:
Warning/information symbol in center ofthe instrument panel
This symbol shines as a red or yellow light depending on the nature of the information displayed. Red symbol – Stop the vehicle as soon as possible in a suitable location and read the message ...
Other voice control settings found in MY CAR
Voice user setting: Two user profiles can be set by pressing MY CAR and going to Settings Voice settings Voice user setting. Select User 1 or User 2. Voice output volume: Press MY CAR and go t ...
Dialing voicemail
The dialogue below enables you to call your voicemail to check any messages that you may have received. Your voicemail phone number must be registered in the Bluetooth® function, see page 236. ...