Recirculation/air quality system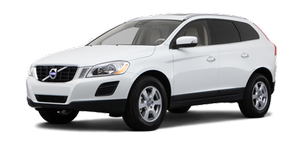 Recirculation
This function can be used to shut out exhaust fumes, smoke, etc., from the passenger compartment. The air in the passenger compartment is then recirculated, i.e., no air from outside the car is taken into the car when this function is activated. The indicator light in the button will illuminate when recirculation is selected.
If the air in the car recirculates for too long, there is a risk of condensation forming on the insides of the windows, especially in winter.
Timer
The timer function minimizes the risk of fogging, or stale air when the recirculation function is selected by automatically switching off the function after a certain length of time, depending on the ambient temperature. Activate/ deactivate the function under Climate settings

Recirculation timer. See page 133 for a description of the menu system.
NOTE
When Defroster is selected, recirculation is always deactivated.
Interior Air Quality System–IAQS
This system consists of a multifilter and an air quality sensor. The filter helps remove gases and particles from the incoming air, thereby reducing the amounts of odors and contaminants entering the vehicle. The air quality sensor detects increased levels of contaminants in the outside air. When the air quality sensor detects contaminated outside air, the air intake closes and the air inside the passenger compartment is recirculated, i.e., no outside air enters the vehicle. The filter also cleans recirculated passenger compartment air. When the AUTO button is depressed the air quality sensor is always engaged.
Activate or deactivate this function in Climate settings

Interior air quality system.
NOTE
• The air quality sensor should always be engaged in order to obtain the best air in the passenger compartment.
• Recirculation is limited in cold weather to avoid fogging.
• If the insides of the windows start fogging, disengage the air quality sensor.
Use the defroster function to increase airflow to the front, side, and rear windows.
See also:
Call settings
While a call is in progress, press OK/MENU or the thumb wheel on the steering wheel keypad to access the following functions: Mute: mute the infotainment system's microphone. Mobile phone: tra ...
Remote keys
Your vehicle is equipped with two coded remote key transmitters with integrated ignition keys called Key Integrated Remote (KIR). The remote key transmitters will also activate or allow " ...
Cordless headphones
1 Switch for selecting channel A (CH.A) or channel B (CH.B) 2 On/Off button 3 Volume 4 On/Off indicator light Two sets of cordless headphones are included with the RSE system. The cordless he ...