Brake system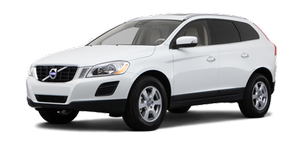 The brake system is a hydraulic system consisting of two separate brake circuits. If a problem should occur in one of these circuits, it is still possible to stop the vehicle with the other brake circuit.
If the brake pedal must be depressed farther than normal and requires greater foot pressure, the stopping distance will be longer.
A warning light in the instrument panel will light up to warn the driver that a fault has occurred.
If this light comes on while driving or braking, stop immediately and check the brake fluid level in the reservoir.
NOTE
Press the brake pedal hard and maintain pressure on the pedal – do not pump the brakes.
WARNING
If the fluid level is below the MIN mark in the reservoir or if a brake system message is shown in the information display: DO NOT DRIVE. Have the vehicle towed to a trained and qualified Volvo service technician and have the brake system inspected.
See also:
Autostart
This function makes it possible to start the vehicle without holding the key in the start position (position III) until the engine starts. Turn the key to position III and release it. The starte ...
Storing wheels and tires
When storing complete wheels (tires mounted on rims), they should be suspended off the floor or placed on their sides on the floor. Tires not mounted on rims should be stored on their sides or ...
High-quality audio
Volvo employs its own audio development team, rather than relying on an outside supplier. This ensures the audio systems are tailored to suit the acoustic properties of each model. The standard, ...