Ignition mode II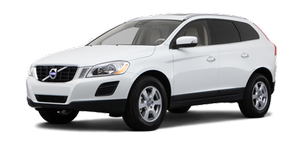 - With the remote key fully pressed into the ignition slot, press START/STOP ENGINE for approximately 2 seconds.
See also:
Heated oxygen sensors
The heated oxygen sensors monitor the oxygen content of the exhaust gases. Readings are fed into a control module that continuously monitors engine functions and controls fuel injection. The r ...
Exterior
Some V50 design characteristics were borrowed from early Volvo wagons. Still, styling hasn't veered dramatically away from the V40. Volvo notes that "from above, the body resembles the shape ...
Accessing and using menus
In menu mode, you can change settings and program new functions in the audio system. The various menu alternatives are shown in the display, and the current level in the menu structure is show ...