Engine range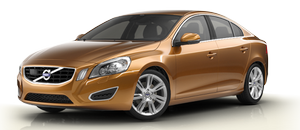 At launch, the Volvo S60 range will be available with a choice of two diesels and one petrol engine. All the engines have been developed to meet the highest demands on sporty, dynamic driving with competitive fuel consumption.
Two five-cylinder turbo diesels
The high-performance twin turbo D5 produces 205 horsepower and 420Nm of torque. Acceleration from 0-62mph takes 7.8 seconds (manual and automatic) and top speed is 146mph (manual) and 143mph (automatic). In the most recent D5 version, introduced in spring 2009, the performance and driveability requirements have been met by fitting two turbochargers of different sizes, one taking over from the other and providing added power within a broader rev range. The result is alert response and rapid acceleration at all speeds, with seamless transfers in the turbo rev range between the two turbochargers. The complementary properties of the two turbos combine high performance with lower fuel consumption of 47.9mpg (EU Combined, preliminary figure).
Advanced fuel injection technology using piezoelectric fuel valves gives exact distribution of fuel in the combustion chamber, with efficient combustion and low emissions as a result.
Smaller displacement lowers fuel consumption
In addition there is the newly-developed 2.0-litre D3 engine producing 163hp and 400Nm of torque. Acceleration from 0-62mph takes 9.2 seconds (manual and automatic) and top speed is 137mph (manual) and 134 mph (automatic).
The new five-cylinder 2.0D is, in principle, the same engine as the present 2.4D, but cylinder capacity has been reduced with a shorter stroke to optimise fuel consumption. With a manual gearbox fuel consumption is now up to 54.3mpg (EU Combined, preliminary figure).
The engine has been optimised to offer reduced fuel consumption and the injection system has a different type of piezoelectrical fuel valve compared with the D5 engine. These valves keep fuel consumption to a minimum thanks to exceptionally fast and precise injection pulses under high pressure. This results in far more efficient combustion.
In order to give the car better driving properties, the turbocharger has been fine-tuned for high torque from low revs.
Both turbodiesels are available with six-speed manual gearbox as standard or an optional six-speed automatic transmission. A maintenance-free particulate filter that traps about 95 percent of the soot particles is fitted as standard in both engines.
High-performance T6 petrol engine
The 3.0-litre T6 petrol engine generates 304 hp and 440 Nm of torque, enhancing acceleration and smooth progress on the road. Acceleration from 0-62 mph takes 6.5 seconds and top speed is 155 mph. Volvo Cars' engine specialists have succeeded in cutting fuel consumption by about 10 per cent to 27.7 mpg (EU Combined, preliminary figure).
The engine's power is delivered to the wheels via Volvo's second-generation six-speed automatic Geartronic transmission. New valves and lower friction mean faster gear changes than before. AWD (All Wheel Drive) is standard on the T6.
DRIVe diesel below 115 g/km
During the first year of production a DRIVe version of the all-new Volvo S60 will be introduced, featuring a new 1.6-litre diesel engine. Fuel consumption will be an impressive 65.7mpg (EU Combined, preliminary figure), corresponding to CO2 emissions approximately below 115 g/km. The uprated engine produces 115 hp and 270 Nm of torque, and will only be available with a six-speed manual gearbox.
Later during the first year of production, the all-new Volvo S60 will also become available with a 2.0 GTDi variant (T5) producing 240 hp and torque of 320 Nm. Furthermore, there will be a 1.6-litre GTDi engine available in two versions: 180 hp (T4) and 150 hp (T3) with torque of 240 Nm.
All the GTDi engines will be available in combination with Volvo's optional automatic six-speed Powershift transmission or a six-speed manual gearbox as standard. The Powershift concept works like two parallel manual gearboxes with separate clutches, giving quick and fuel-saving gearchanges.
See also:
Image settings
Screen settings can be made for brightness, contrast, tint and color. Press on the remote control and change the setting under Image settings on the screen. See also page 251 for additional ...
Fuel filler door
Press the button on the light switch panel (see the illustration on page 268) when the vehicle is at a standstill to unlock the fuel filler door. Please note that the fuel filler door will remain ...
Whiplash Protection System – WHIPS
General information Whiplash Protection System (WHIPS) – front seats only The WHIPS system consists of specially designed hinges and brackets on the front seat backrests designed to help abs ...