Driving dynamics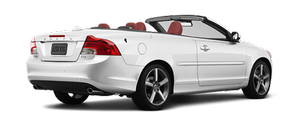 The new Volvo C70 is two cars in one - and not just visually. The driving experience is also multi-dimensional.
The Volvo C70, especially in convertible form, is a car that can be driven gently and romantically under an open sky. At the same time, the car has the potential for sporty driving thanks to its powerful, responsive driveline, rigid body and stable roadholding.
Engine range
Advanced engine and exhaust filtration means Volvo's engines combine high performance with low environmental impact.
There is a choice of two petrol units, a 2.4i 170 PS and a 230 PS T5 turbo and two diesel powerplants. The 2.4-litre turbodiesel, 180 PS, D5 engine is smooth, refined, torquey (400Nm at 2000-2750rpm) and returns up to 52.3 mpg on the extra-urban cycle while the 2.0D features second-generation common rail technology to provide cleaner emissions, improved fuel economy and a quieter drive.
All engines get double overhead camshafts, four valves per cylinder (to help power and efficiency) and variable camshaft control, for greater driving flexibility, refinement and reduced fuel consumption.
The top-range unit is the 2.5-litre light-pressure turbo T5. Not only is it strong in absolute performance - top speed 150 mph, 0-60 mph acceleration in 7.0 seconds - but its wide spread of torque makes it highly responsive over a wide rev band. Maximum torque of 320 Nm comes from as little as 1500 rpm.
The T5 engine offers a terrific blend of performance and economy. As the manifold and turbo unit have been cast together in high-alloy cast steel, it is extremely heat resistant (emission temperatures are permitted to reach 1,050°C). The need for cooling using petrol has therefore been minimised. The engine can be run on a leaner petrol mix with lower fuel consumption and emissions, particularly when driving at high speed or with a heavy load.
The normally aspirated 2.4i is a long-stroke unit that offers impressive torque and flexibility, and fine refinement.
The 2.0D offers drivers a combination of enhanced driving pleasure and impressive fuel economy. This engine gives drivers a powerful 136 PS and 320Nm of torque enabling a top speed of 127 mph and 0-60mph in 10.3 seconds. Power does not come at the expense of economy; the Volvo C70 2.0D offers a strong 47.1 mpg (6.0 l/100 km) combined fuel consumption and CO2 emissions of 158g/km. The 2.4-litre, D5 diesel marries turbo-charged performance with superb fuel economy.
Transmissions
The 2.4i comes with a choice of five-speed manual or five-speed Geartronic automatic gearboxes. The D5 is available with a six speed manual gearbox with the five-speed automatic Geartronic transmission available as an option, similar to that of the T5. The Geartronic can be driven either as a conventional auto or a clutch-less sequential manual. The 2.0D is available with 6-speed manual with the option of the Powershift gearbox which was introduced in May 2008. The Powershift gearbox is a six-speed unit featuring twin wet clutches to provide the gear changing comfort of a fully-automatic transmission with the performance of a manual.
Operating as two parallel manual gearboxes, Powershift has twin wet clutches that work independently of one another. One clutch controls the odd gears (1, 3, 5 and reverse) while the other handles the even ratios (2, 4 and 6). The two clutches operate alternately with one engaging while the other disengages, like a slip clutch. This means that at the same time as the engine gets full power and maximum thrust in first gear, second gear is placed ready to be engaged. And when second gear has been engaged, third gear is readied, and so on. This gives a continuous flow of power without any disruption in power delivery or any torque loss. This results in extremely fast and smooth gear changes whilst maintaining acceleration allowing 0-60 mph to be reached in 10.5 seconds in the new Volvo C70.
Apart from gear changing comfort and high performance, Powershift also contributes to delivering improved fuel efficiency. The Powershift Automatic offers an impressive combined fuel consumption of 44.8 mpg on a combined cycle and a CO2 figure of 167g/km.
"Lower fuel consumption allied to increased comfort and higher performance sounds like an impossible equation. But with Powershift we have shown this is perfectly possible" says Magnus Jonsson, Senior Vice President, Research & Development, Volvo Cars.
Powershift gives the driver an automatic transmission that permits sequential gearchanges, just like with Volvo's Geartronic transmission. The difference is that with Powershift even manual gearchanges take place without any time or power losses. Also, unlike a conventional automatic transmission, Powershift does not need a torque converter, planetary gears or multiple wet clutches, there is also none of the added torque losses that these features bring.
All Volvo C70s are front-wheel drive, which offers more predictable handling and better traction than rear-drive. The transverse engine design improves space efficiency - the sideways layout takes less fore/aft space. It also improves safety by creating a generous crumple zone in the engine compartment.
See also:
Dialing from a call list
The dialogue below enables you make a call from one of your cell phone's call lists. The user initiates the dialogue by saying: Phone > dial from call list or Phone dial from call list C ...
Buttons in the center console
...
2011 Volvo C70 Review
My kids and I were thrilled at the prospect of test-driving the 2011 Volvo C70. When the redesigned hardtop convertible coupe arrived at our house, we immediately jumped in it, put the top down an ...