Guiding lines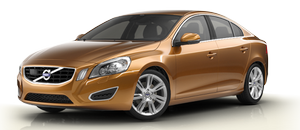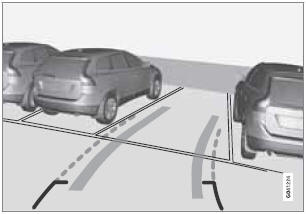 The lines on the screen are projected as if they were a path on the ground behind the vehicle and are affected by the way in which the steering wheel is turned. This enables the driver to see path the vehicle will take, even if he/she turns the steering wheel while backing up.

NOTE
When backing up with a trailer, the guiding lines show the path that the vehicle will take, not the trailer.

WARNING
Keep in mind that the image on the screen only shows the area behind the vehicle. The driver must always watch for people, animals, other vehicles, etc., near the sides of the vehicle when turning while backing up.
See also:
General information
The infotainment system displays information in four different views. The highest (most general) level is called the main view and is common to all system modes (RADIO, MEDIA, TEL). Each mode ...
Decals
There are various types of decals in the vehicle whose purpose is to provide important information in a clear and concise way. The importance of these decals is explained as follows, in descen ...
Conserving electrical current
Keep the following in mind to help minimize battery drain: When the engine is not running, avoid using ignition mode II. Many electrical systems (the audio system, the optional navigation syste ...