Warning light—driver braking required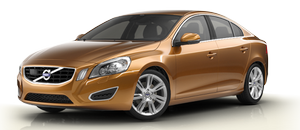 Adaptive Cruise Control can exert brake force that is equivalent to approximately 40% of the vehicle's total braking capacity. In situations requiring more brake force than ACC can provide and if the driver does not apply the brakes, an audible signal from the Collision Warning system will sound and warning light will illuminate (see page 174) in the windshield to alert the driver to react.

NOTE
Strong sunlight, reflections, extreme light contrasts, the use of sunglasses, or if the driver is not looking straight ahead may make the visual warning signal in the windshield difficult to see.

WARNING
Adaptive Cruise Control only warns of vehicles detected by the radar sensor, see page 160. In some cases there may be no warning or the warning may be delayed. The driver should always apply the brakes when necessary.
See also:
CHANGE CODE
This function makes it possible to change the channel access code. The default code is 0000. To change the code: 1. Select CHANGE CODE and press ENTER. 2. Enter the current code and press ENTE ...
Repairing stone chips
1. Place a strip of masking tape over the damaged surface. Pull the tape off so that any loose flakes of paint adhere to it. 2. Thoroughly mix the primer and apply it with a small brush. 3. ...
2011 Volvo C70 Review
My kids and I were thrilled at the prospect of test-driving the 2011 Volvo C70. When the redesigned hardtop convertible coupe arrived at our house, we immediately jumped in it, put the top down an ...