Warning light—driver braking required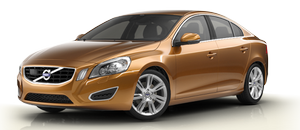 Adaptive Cruise Control can exert brake force that is equivalent to approximately 40% of the vehicle's total braking capacity. In situations requiring more brake force than ACC can provide and if the driver does not apply the brakes, an audible signal from the Collision Warning system will sound and warning light will illuminate (see page 174) in the windshield to alert the driver to react.

NOTE
Strong sunlight, reflections, extreme light contrasts, the use of sunglasses, or if the driver is not looking straight ahead may make the visual warning signal in the windshield difficult to see.

WARNING
Adaptive Cruise Control only warns of vehicles detected by the radar sensor, see page 160. In some cases there may be no warning or the warning may be delayed. The driver should always apply the brakes when necessary.
See also:
Additional fuses in the cargo compartment (XC90 Executive)
The fuses in the cargo area are located behind the panel on the driver's side of the cargo compartment. When replacing a blown fuse, be sure to replace it with a new one of the same color and ...
Brake fluid reservoir
The brake fluid should always be above the MIN mark on the side of the reservoir. Check, without removing the cap, that there is sufficient fluid in the reservoir. Fluid type: DOT 4+ boiling poi ...
Horn
Horn - Press the steering wheel hub to sound the horn. ...