Introduction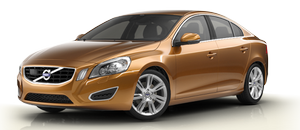 The Dynamic Stability and Traction Control system (DSTC) consists of a number of functions designed help reduce wheel spin, counteract skidding, and to generally help improve directional stability.
CAUTION
A pulsating sound will be audible when the system is actively operating and is normal.
Traction control (TC)
This function is designed to help reduce wheel spin by transferring power from a drive wheel that begins to lose traction to the wheel on the opposite side of the vehicle (on the same axle).
TC is most active at low speeds.
This is one of DSTC's permanent functions and cannot be switched off.
Active Yaw Control (AYC)
This function helps maintain directional stability, for example when cornering, by braking one or more of the wheels if the vehicle shows a tendency to skid or slide laterally.
This is one of DSTC's permanent functions and cannot be switched off.
Spin control (SC)
The spin control function is designed to help prevent the drive wheels from spinning while the vehicle is accelerating.
Corner Traction Control – CTC
CTC compensates for understeering and helps provide additional stability when accelerating through a curve by preventing the inside wheel from spinning. This is particularly useful when accelerating on a curving highway on-ramp.
CTC is most effective if the stability system's Sport mode is selected. See the section about Sport mode.
Engine Drag Control (EDC)
EDC helps keep the engine running if the wheels show a tendency to lock, e.g., when shifting down in the Geartronic manual shifting mode or while using the engine's braking function on a slippery surface. If the engine were to stop, power steering would not function, making the vehicle more difficult to steer.
Trailer Stability Assist – TSA*
Trailer Stability Assist helps stabilize a vehicle that is towing a trailer when the vehicle and trailer have begun to sway. See page 263 for more information.
This system is automatically deactivated if the driver selects Sport mode.
See also:
Fuel filler door
Press the button on the light switch panel (see the illustration on page 67) when the vehicle is at a standstill to unlock the fuel filler door. Please note that the fuel filler door will remain ...
Introduction
Information display and controls 1 READ–press to acknowledge/confirm/erase a message) 2 Thumb wheel (used to scroll among the trip computer menus) 3 RESET–resets certain functions To scroll thro ...
Tire Pressure Monitoring System (TPMS)
The tire pressure monitoring system1 uses sensors mounted in the tire valves to check inflation pressure levels. When the vehicle is moving at a speed of approximately 20 mph (30 km/h) or faster, ...