Power door mirrors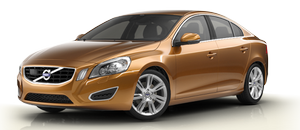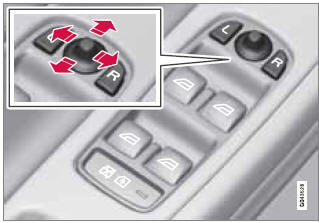 Door mirror controls
Adjusting
1. Press the L button for the left door mirror or the R button for the right door mirror. The light in the button comes on.
2. Adjust the position with the joystick in the center.
3. Press the L or R button again. The light should no longer be on.

WARNING
Objects seen in the mirrors may appear further away than they actually are.
See also:
Tire sealing system–temporarily repairing a flat tire
Tire sealing system–temporarily repairing a flat tire Temporarily repairing a flat tire is done in two stages: • Stage 1: The hole is sealed by pumping sealing compound into the tire. The car ...
Key memory: door mirrors and driver's seat
The position of the side door mirrors and power driver's seat are stored in the remote keys when the vehicle is locked. The next time the driver's door is unlocked with the same remote key and ...
Under the glove compartment
boxes. 1. Press the cover's lock and fold it up. 2. The fuses are accessible. Positions-fuse box A Positions-fuse box B ...